This episode is brought to you by Pictures on Gold. Pictures on Gold offers personalized police and firefighter jewelry like badge necklaces, earrings and more. Use this link to shop and use code PROUDPOLICEWIFE for $10 off.
Whether your spouse is ready to retire or is questioning if it is time to leave law enforcement or not, it is important to know what the transition can look like and how to prepare. So in this episode we are talking about tips for transitioning to retirement for law enforcement officers and their families.
Joining us in today's podcast episode is Jason Hoschouer where he talks about his own transition to retirement and what him and his wife had to do to prepare financially.
Jason is a 23-year law enforcement veteran in the San Francisco Bay Area. For 13 years, he was assigned to the Traffic Unit as a Motor Officer…thus, he's better known as MotorCop.
Between August 2009 and December 2011, Jason and his wife paid off $77,232.88 in debt on just his income. They accomplished this monumental feat by following a plan…the very plan he now teaches to other law enforcement families.
In 2013, Jason spent a week attending Dave Ramsey's Financial Coaching Masters Series and became an Independent Dave Ramsey Financial Coach. Jason has led eight iterations of Dave's Financial Peace University and has seen the students in those classes cumulatively pay off nearly $1,000,000 in debt.
Upon returning from the Masters Series, Jason created his financial coaching business and has been coaching fellow first responders in a one-on-one capacity ever since.
In 2018, Jason became a POST-certified Master Instructor. He has a passion for teaching, speaking, writing, and walking with fellow first responders through the often difficult task of getting control of their finances. Jason is now a retired law enforcement officer.
Jason's Message to Fellow Law Enforcement and Spouses
Don't identify yourself solely on your career. Too many people have their entire lives wrapped up in law enforcement and once they leave the job, they are absolutely lost. It is important to find the skill sets you DO have as law enforcement that can be used in other areas of your life or in a new career that goes well beyond law enforcement.
Have friends outside of the job. Have hobbies and choose things in life that have nothing to do with law enforcement. So when you transition out of the career you have friends and hobbies that you love not tied to the career you once had.
How to get in touch with Jason:
CONTACT JASON FOR FINANCIAL COACHING
EMAIL: JASON@WYERADIO.COM
If you have more tips and expertise regarding retirement for law enforcement, I would love to have you on the show. Contact Rebecca at info@proudpolicewife.com
IF YOU LIKED TODAY'S EPISODE OR PAST EPISODES, PLEASE LEAVE A RATING OR REVIEW ANYWHERE YOU LISTEN TO PODCASTS.
FREE Police Wife Guide- Top 10 Ways to Rock Police Wife Life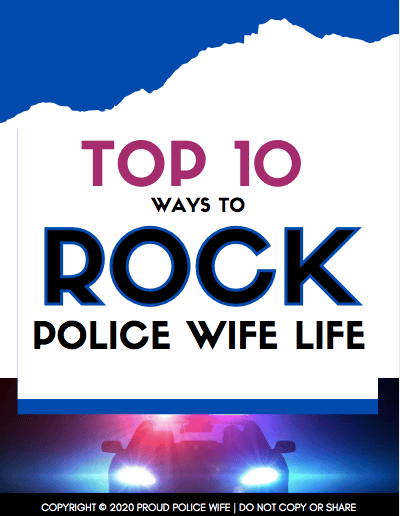 Learn to rock police wife life with these 10 easy tips! Join over 20,000 fellow police wives who are learning to rock it and feel supported with our help each week! Once a week I will provide you with even more ways to feel encouraged and supported for your law enforcement wife journey with my newsletter.
Read my PRIVACY POLICY here.