Guest post by Lauren Pettis
With the holidays quickly approaching, many of us are wracking our brains, on the hunt for the "perfect" gift for both our significant others and children. Something they'll love and really capture their attention, but also gives a lot of return for our hard-earned dollar. So often though, the "things" we pile up beneath the tree end up unused, or piled up in the corner of the playroom with all the other toys that served their 3 days of entertainment duty.
As the trends shift towards minimalism and Marie Kondo-ing our lifestyles, the argument to invest in experiences over things emerges even more.  The allure of a new toy will inevitably fade, but the gift of time together, particularly as police families, is invaluable.  Between crazy work schedules, holidays spent apart, events missed – our kids sacrifice right alongside us, and we know very well that time together is not always a guarantee. 
A vacation together – free from the stressors of our everyday lives – can be just what the doctor ordered for the entire family. There are so many places to go and things to see around the world, but a Disney vacation as a law enforcement family in particular can bring so much magic that, combined with the excitement of Christmas morning, is something the kids (and parents) will talk about for years to come!
While there are not discounts for law enforcement families to Disney, there are tips and tricks for planning that can make your trip less stressful and more magical.
5 Tips For Planning a Disney Vacation for Law Enforcement Families:
Consider staying on property.
Staying at one of Walt Disney World's Resorts provides a multitude of benefits that give you value for your hard-earned dollar, such as:
Complimentary transportation to and from the Orlando (MCO) airport aboard the Magical Express
Ability to book a Walt Disney World Vacation Package
-Disney occasionally releases vacation packages (which includes resort accommodations, tickets and optional dining) discounts throughout the year, which can provide valuable savings.  By combining all the elements of your vacation into one package, you are eligible for applicable discounts, $200 deposit, vacation package change and cancellation policies (very beneficial for law enforcement families), and convenience!
$200 Deposit, and Final Payment Due 30 Days Before Arrival
Paying for the entire vacation, right before the holidays, may be understandably unrealistic. With only a $200 deposit, you can set up a payment plan that works for your family, and the final amount is not due until 30 days before your arrival.
On-property guests can opt into one of 3 Dining Plans, which, in addition to taking the stress out of budgeting during your vacation, can save you 15-20% depending on what you order!
On-property guests receive complimentary magic bands, which are your personal room keys, form of payment, FastPass tracker, picture collector and more – all at the accessibility of your wrist!
When you stay on-property, you can book your FastPasses, or 3 complimentary passes into an expedited ride or attraction queue, at 60 days out vs 30. This can make a HUGE difference in the flow of your vacation, particularly for those popular rides and shows.
Less time waiting in line = more time to do and explore, and inevitably happier family members!
Ability to use a complimentary, earmarked travel agent for all your planning needs!
Extra Magic Hours: On-property guests are entitled to extra magic hours- the parks either open an hour early on specially designated days or stay open later just for them!
Choose the right amount of days for your family
My recommendation is usually 5 days of park tickets – one each for Animal Kingdom, Epcot, and Hollywood Studios, and 2 for Magic Kingdom as that is really a 2-day park. Did you know that Walt Disney World is roughly the size of San Francisco?!

With that amount of walking and things to do, it is also wise to build-in a day of rest to your schedule. A relaxing day by the pool can make all the difference!
Interested in Character Meet and Greets? Consider Character Dining!
Rather than waiting in line to see some of your must-see family favorites, a character dining experience brings the characters to you! Characters, such as Stitch at Ohana or Cinderella at 1900 Park Fare, come directly to your table for personalized time with your family and photo opportunities, which both saves time and creates memorable interactions.

Book at least 7 months out!
To truly build the vacation of your dreams, my recommendation is to book at least 7 months out.  You can begin booking dining at 180 days out, which will give you the most options for your ideal selections, and then the FastPasses at 60 days out.  Booking at 7 months out gives you ample time to build the ideal itinerary, as well as having the most resort options to select from.
This is particularly helpful for law enforcement families as many officers have to make their schedules or request time off months in advance.
Use an earmarked travel agent specializing in Disney!
I highly recommend using a travel agent from an earmarked agency specializing in Disney, and not just because I am one!  Travel agents are paid directly by Disney, so there is no additional cost to you! A travel agent can be as involved (or not) in your planning process as you'd like, with services such as:
Providing recommendations on the perfect resort, ticket type, etc for your individual needs
Building a custom itinerary based on your family's preferences and projected crowd calendars to optimize your time in the parks
Price-monitoring: If an eligible discount is released after you book, a good travel agent will automatically apply that on your behalf.
Booking all dining and FastPasses on your behalf. Dining opens at 6am EST 180 days out, and FastPasses at 7am EST – when most people are right in the middle of their morning routines!
Having an actual person to contact for all of your questions rather than a call center
Supporting a small, police-wife business!
Taking the stress out of your vacation planning – the last thing a vacation should be is stressful!
All the tips, tricks and recommendations of a travel agent specially trained in everything Disney and with years of experience!
Although Disney does not offer law enforcement discounts, they do offer military discounts with the select qualifications! Feel free to join my group specifically for Disney Planning for LEO Families for helpful tips, hints and camaraderie with other Disney-loving LEO families, or follow my business page. Is Disney not exactly on your radar? I can assist with a variety of other destinations, all-inclusives and cruise lines as well – all completely free for you!

TIP:  If you decide to gift a 2020 trip this year, include a count-down block calendar, special outfit or luggage beneath the tree to announce the surprise!
About the author:
Lauren Pettis is a police wife and travel agent for Living with the Magic Vacations. You can email her at laurenp@livingwiththemagic.com or join her Facebook page for vacation tips and tricks.
FREE Police Wife Guide- Top 10 Ways to Rock Police Wife Life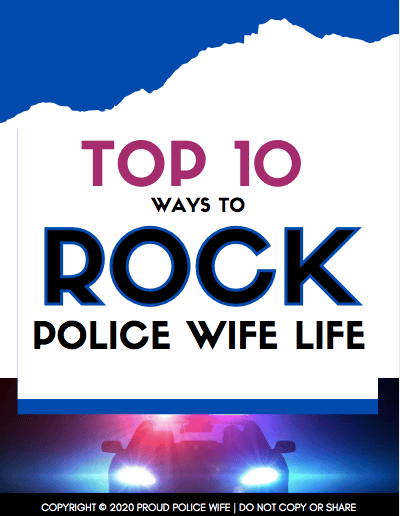 Learn to rock police wife life with these 10 easy tips! Join over 20,000 fellow police wives who are learning to rock it and feel supported with our help each week! Once a week I will provide you with even more ways to feel encouraged and supported for your law enforcement wife journey with my newsletter.
Read my PRIVACY POLICY here.