This is a sponsored post on behalf of The Police Credit Union of California. All opinions are honest and my own.
We have been a law enforcement family for over 15 years and never once have we expected discounts or special benefits for my husband's career. However, knowing that there are companies or institutions out there that recognize the sacrifices law enforcement officers (and their families) make and want to provide benefits to them, is more than appreciated.
A little thank you goes such a long way and we have definitely gravitated towards companies that show their support to law enforcement.
The Police Credit Union of California offers multiple benefits to their law enforcement members and you are eligible to be a member if you reside in California and work in law enforcement.
Below are some of the exclusive benefits for law enforcement they offer that make this credit union really stand out.
Benefits to law enforcement members of The Police Credit Union (that could be you):
End of Watch Debt Forgiveness Program
While this can be a hard topic to think about, it is a very important thing to plan for as a law enforcement family. Having peace of mind, knowing that if something happened to the officer in your life, you could have certain debts forgiven by The Police Credit Union would make all the difference.
To learn specifics about this benefit, you can go here.
The Police Credit Union has partnered with GreenPath Financial Wellness to help bring their members financial health. Because of this partnership, members can get free budgeting and financial education support.
Another partnership that The Police Credit Union brings its members so that you can plan for your future.
Special Discounts to Popular Brands/Businesses
Who doesn't love saving? The Police Credit Union has teamed up with some amazing companies that want to give back to law enforcement families. They have offered special discounts just for being a member of The Police Credit Union.
Looking for a more convenient and secure credit card? The Police Credit Union offers that, too! Contactless pay, competitive rates and more!
If these incredible benefits don't impress you, I don't know what will.
If you live in California, are in law enforcement (or your spouse is) and are ready to take advantage of these benefits to law enforcement by a credit union that wants to protect you like you protect others, sign up here.
FREE Police Wife Guide- Top 10 Ways to Rock Police Wife Life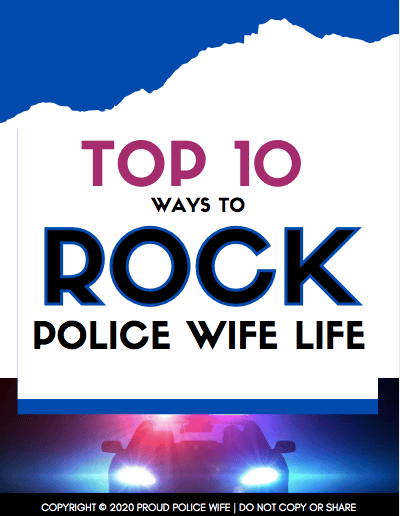 Learn to rock police wife life with these 10 easy tips! Join over 20,000 fellow police wives who are learning to rock it and feel supported with our help each week! Once a week I will provide you with even more ways to feel encouraged and supported for your law enforcement wife journey with my newsletter.
Read my PRIVACY POLICY here.