This is a sponsored post by Arrest My Vest. All work is honest and my own.
I love surprising others with gifts especially around the holidays, but I find my husband to be one of the hardest people to buy for.
He often needs or asks for gifts that are be work related and I draw a blank.
So for this year, I worked with him to compile a comprehensive gift guide that is great for any police officer!
So let's dive in!
The Ultimate Gifts for Law Enforcement
This is hands-down the BEST odor eliminating spray ever! We not only use it on my husband's vest, gear, and shoes, but we also use it in my van, our kid's shoes and more!
It does NOT mask or "cover up" smells- it 100% eliminates them!
The spray is all natural and safe around children and pets. My husband prefers the "Midnight" scent and I like both the "Stressless" scent and "Unscented".
You can check out Arrest My Vest spray by going to their website here or on Amazon. The small bottles are perfect for stocking stuffers or just to buy and leave in your officer's patrol car.
USE CODE THANKYOU (ALL ONE WORD) FOR 15% OFF YOUR ORDER AT ARREST MY VEST!
This is a mini portable warming oven which is perfect for warming meals while your officer is on duty. You simply plug it into the car and warm up your meal!
Glock Plates
These glock plates by Milspin are SUPER popular and a very unique gift idea.
You can personalize them up to 20 characters (letters and numbers) to whatever you would like or you can go with a standard thin blue line version. I personalized my husband's with "sheepdog" and he loved it!
CHECK OUT MILSPIN GLOCK PLATES HERE.
DIY Gifts:
Spending a lot of money on gifts is not necessary. Try one of these cheap and easy DIY gifts.
Here are a few off my website that would be great:
Rustic DIY Thin Blue Line Wooden Ornaments
Easy + DIY Thin Blue Line String Art
Homemade Trail Mix– great snack!
Charging Station/Dump Tray
This charging station is great for Apple users and charges watches, airpods and an iphone at once!
Here is an awesome looking dump tray so your spouse can place keys, wallet, etc in one organized place!
Here is a delicious Blue Box from Barnyard Coffee– what an awesome gift set!
Both of these brands have thin blue line versions of coffee but they also have a large selection of other coffee blends that I recommend trying!
Looking for specific Thin Blue Line gear? Check out Blue Line Heroes.
Here are a few of our favorites:
Apparel- I love this Blue Line Camo T-Shirt. Super soft and washes well.
Drinkware- these Blue Line Pint Glasses are perfect for adding your favorite drink after a long day on the job.
Hats- they offer many options, but this blue line flag hat is classic.
You can also use code: PPWIFE10 for 10% off your order at Blue Line Heroes.
These are super popular stands that allow police officers to hang all their gear, vests, and work-related equipment in one place.
These are the ultimate socks for any first responder. (Cue the black sock jokes lol)
They wash well, stay up and compliment a work boot extremely well. My husband has both the crew socks and tactical boot socks.
Use code PROUDPWIFE15 for 15% at Orp Socks.
Surprise Date/ Small Getaway
I can almost guarantee that you both need this. Schedules can be hectic and you most definitely need time together. Why not plan a date day or small getaway where you can escape work for a bit?
Whether it is visiting a local brewery/winery outdoors or going away to the mountains for the weekend, a surprise trip can help you both destress and make memories together!
Sunglasses
My husband wears these exact Oakleys and loves them! He has lost a few pair on the job, as well. LOL! They are always in their vehicles so having sunglasses is a must!
What are some of your favorite gifts for law enforcement?
FREE Police Wife Guide- Top 10 Ways to Rock Police Wife Life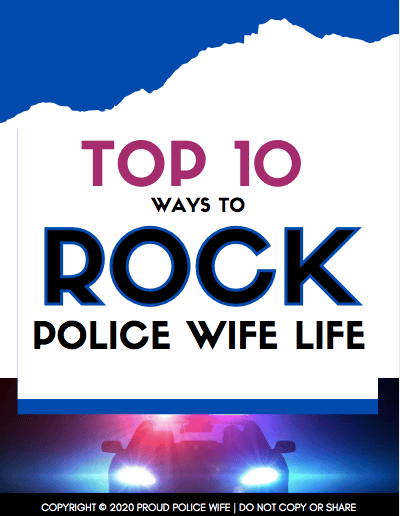 Learn to rock police wife life with these 10 easy tips! Join over 20,000 fellow police wives who are learning to rock it and feel supported with our help each week! Once a week I will provide you with even more ways to feel encouraged and supported for your law enforcement wife journey with my newsletter.
Read my PRIVACY POLICY here.