The holidays are almost upon us. Well, they are practically here because Hobby Lobby has had displays up since June, am I right?
I am a planner, by nature, so I like to be prepared for holiday gift giving as best as I can. I am also not the type of person to buy a ton of gifts right before Christmas. I start early and spread out the buying (& spending) over a few months. Which means I have to put the bug into my husband's ear early that I need gift ideas.
When it comes time for buying presents for my husband around the holidays I used to draw a blank. He doesn't always give me ideas for gifts he may be wanting nor does he like surprises. If my husband does mention some gifts then it is usually SO CLOSE to Christmas that I can't even get Amazon Prime to deliver it! Or he mentions gifts that have to do with guns & ammo and I don't always feel comfortable (or knowledgeable) making those types of purchases. Not to mention, they are expensive, year after year. Can you relate?
Recently, my husband said I am difficult to buy for also. I seem to want the same things over and over again or I would just rather buy for our children. I also prefer to have gifts of experiences/memories rather than material objects; this is something new as I have gotten older. Regardless, it takes a lot of effort for both of us to come up with new, creative ideas during the holidays.
I figured I could not be alone so having the BEST gift ideas for law enforcement couples is what I thought would help you this holiday season. Obviously, as a police couple you want other things besides JUST law enforcement related items, but for this post, I am only focusing on the top police related gifts you should know about. 🙂
The ULTIMATE gift guide for a police officer & his wife:
Thin Blue Line Canvas– I absolutely love these canvases from Canvas Freaks. You even have the option to personalize them depending on which one you select.
Use code: VIBES to take 10% off and get FREE SHIPPING.
Blue Angel Coffee Company– If you need a great stocking stuffer, this is IT! Blue Angel is law enforcement owned and operated and did I mention, they make AMAZINGLY GOOD coffee!? My officer loves his coffee before each shift and it is a great way to help your officer stay energized for the long hours ahead. They also sell mugs and shirts with sayings like "Death Before Decaf". They offer ground coffee and K-Cups (my personal favorite)! Blue Angel Coffee Co. was nice enough to give a 10% discount to all our readers. Use code 'policewife' at checkout!
Thin Blue Line flags, gear, or apparel from Thin Blue Line USA: This site has it ALL! You seriously can not go wrong. We own the thin blue line flags, apparel, a onesie for my son, decals, and more! We feel great about supporting this company because they donate thousands each year to law enforcement organizations and non-profits. You can read more about that here.
A Good Read: If your husband is like mine then he reads all the "cop" books out there. Some are too heavy, so a more light-hearted read that we recommend is You Can't Make This Stuff Up by Mike the Cop.
A great read for any police wife is The Peacemaker's Wife. It is a collection of over 50 journal entries that provide inspiration for navigating police wife life and comes with plenty of writing space for reflection! Feel free to check out the reviews here and see how it is a must-have for any police wife!
A great coffee table book, POLICE: Brotherhood in Uniform Around the World, has images of police from many, many countries. The author, Matt Javit, a police supporter, traveled to 35 countries over a span of 27 months to capture beautiful images of law enforcement officers around the world. I have a copy and the images are beautiful and every officer shows their uniforms off proudly.
You can GIFT the photography book, at a reduced price, to a random police officer to show your support for the men and women that help keep us safe. Included with the shrink-wrapped book will be a card of gratitude that shows your name and city, state. You can also find the book on his website here.
Police Wife Jewelry: There is a lot of thin blue line jewelry now a days, but many police wives seem to prefer the more subtle pieces. This is a great way to give support to your officer while also feeling connected when your officer is on duty. My personal favorites are the Personalized Thin Blue Line necklace (less than $50) and the Hand Stamped Thin Blue Line Police Wife Necklace ($24), both from Amazon. Classy and supportive in one fell swoop!
Police Wife Clothing: I have to say, I am particular about what police wife apparel I purchase. I do buy from Thin Blue Line USA, as I mentioned above. The only other shop I purchase from is Emory Lane Co.
They each have their own, unique style and their products are of high quality. I recommend checking them both out.
What police wife would not want awesome, blue line apparel? Even if you don't wear it out in public; I love being comfortable in my Mrs. sweatshirt (@ home) from Emory Lane!
Grab the All-in-One Police Wife Reference Guide
Grab this handy reference guide for all things police wife! From important dates & events to resources for law enforcement- all in one place! Subscribing also gets you access to my weekly newsletter full of tips and encouragement.
Read my PRIVACY POLICY here.
Experience/Memory: After days apart, all year long, sometimes all a law enforcement family needs is some time together. The gift of time (off), making family traditions/memories, or experiencing a getaway together can be gift enough. The meaning of this season is to be with the ones you love most.
Some suggested holiday experiences and memories are (with a range in price): attending a festive light show, going to Christmastown at Busch Gardens, going to the movies on Christmas, binge-watching Christmas movies, getting family photos done (without Santa ;)), a weekend getaway in lieu of gifts, baking delicious holiday treats together.
DIY gifts: There are so many tutorials on Pinterest these days for making your own thin blue line related gifts. Ideas range from thin blue line corn hole boards (if you are super creative) to thin blue line/ morse code bracelets (for the easy DIY-er). This can also be an inexpensive way to show your love. And I don't know about you, but I love a handmade gift WAY more than a store bought one!
Warrior Racks: Based on recommendations from fellow police wives, this duty gear holder seems to be a hit! My officer does not have one (yet) but I have not heard a bad testimonial so I thought it would be perfect for this guide!
Need more gift ideas?
I wish you and your officer a blessed holiday season and most importantly, I hope your officer stays safe while protecting our streets.
FREE Police Wife Guide- Top 10 Ways to Rock Police Wife Life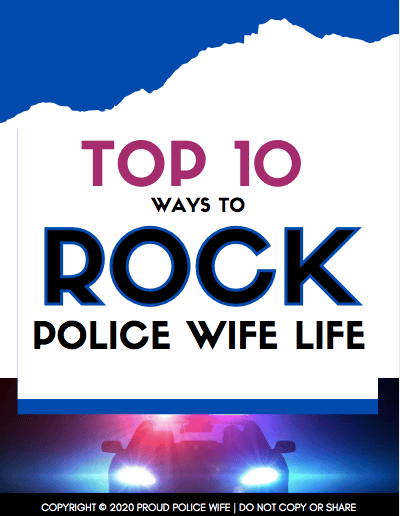 Learn to rock police wife life with these 10 easy tips! Join over 20,000 fellow police wives who are learning to rock it and feel supported with our help each week! Once a week I will provide you with even more ways to feel encouraged and supported for your law enforcement wife journey with my newsletter.
Read my PRIVACY POLICY here.