If there could have been that one friend, just one, when I entered police wife life that could have shared all the ins and outs with me I would have probably stressed so much less.
I envision her sharing her best advice, giving me encouragement and telling me it would be okay & sharing the tiny little secrets almost no one shares, all while being brutally honest when I needed to hear that, too.
If you have that police wife friend, treasure her. Don't let that relationship go and keep it strong. Provide one another with all the love and friendship that you can while being flexible and cognizant of this lifestyle.
I didn't have that friend for YEARS into this journey. And that's okay, too. But I wish someone had told me these secrets because I truly believe my journey would have been a tad bit smoother if I had known them earlier.
These are officially the secrets I had no idea about as a police wife:
1. I should ask for help.
100% yes! I can not preach this tip enough! While police wives are super strong and independent, we must also give ourselves some grace. We aren't perfect here friends and that is perfectly OKAY!!
We can not do it all all of the time. We get sick, we are tired, we juggle a lot and sometimes in life, we need help. Whether you need a parent or in-law to help with a home project or you trade childcare with a friend, please don't stretch yourself too thin.
Ask for help; you will never regret it!
2. Be a part of a community.
Any community counts. Whether you jive better with co-workers, neighbors, a work-out tribe, mom groups, or police wives, find a community that gives you strength and inspires you.
Life is so much easier to get through when you aren't doing it alone. And more importantly, stays away from negativity. Find a community that promotes positivity and true friendship.
Grab the All-in-One Police Wife Reference Guide
Grab this handy reference guide for all things police wife! From important dates & events to resources for law enforcement- all in one place! Subscribing also gets you access to my weekly newsletter full of tips and encouragement.
Read my PRIVACY POLICY here.
3. Be a friend to another police wife.
Sometimes we get so focused on how this lifestyle impacts us or our family and we fail to remember just how hard it is for the police wife sitting next to us or on the other side of the Facebook screen.
How amazing would it be to have a friend that understands this lifestyle? A friend that bonds you by the blue line and casts no judgment.
Think of the friend you wish you had- be that friend to someone else. Kindness goes a long way. You never know just how much someone else needs a listening ear, inspiring message or friend who really "gets it".
4. You will get through this.
Girl, yes. No matter the season, no matter how hard, this too shall pass. Whether I was having a hard day, hard month or difficult season of life, I needed to hear that I would get through this.
And you need to hear that, too. You will get through this and it will be okay.
I can not yell this from the rough tops enough, ladies, YOU ARE AMAZING. There is enough room for all of us, so let's stick together.
FREE Police Wife Guide- Top 10 Ways to Rock Police Wife Life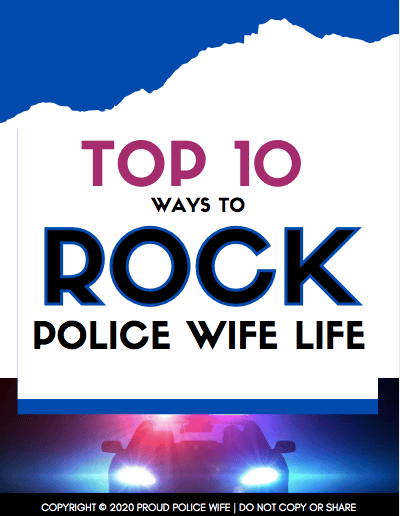 Learn to rock police wife life with these 10 easy tips! Join over 20,000 fellow police wives who are learning to rock it and feel supported with our help each week! Once a week I will provide you with even more ways to feel encouraged and supported for your law enforcement wife journey with my newsletter.
Read my PRIVACY POLICY here.