I love making thin blue line desserts and even more-so, I LOVE supporting the police officers in our community (including my husband)!
So if you asked me the ONLY dessert I could not live without, it would hands-down be Oreo cookies. They are just heaven on Earth! So I knew if I made Oreo truffles then they would be EVEN better and I was right!
Not to mention, these are the EASIEST to make. You will thank me!
How to make Thin Blue Line Oreo Truffle Balls that you will love:
I start by taking one package of Oreos and placing them in a blender. I pulse them until they are like a fine powder.
I then add in 1 block of Philadelphia Cream Cheese (room temperature-super important).
Mix the oreos and cream cheese until it forms a large ball.
Using a cookie scooper, divide up the large ball into 24-32 small oreo truffle balls, as you see below. You may need to pack each ball tightly before placing it on a parchment lined baking sheet.
Once all your balls are formed, place them in the freezer to harden up for 1-2 hours.
Once hardened, remove from the freezer and immediately begin melting chocolate to dip the oreo truffle balls in to.
I prefer Ghirardelli melting wafers, either dark chocolate or milk chocolate. You could also use Wilton's Black Candy Melts.
To melt the chocolate, you will need to make a double boiler. I take one sauce pan with about 1/4 full of water and bring it to a boil. Before the water boils, I place a metal dish on top of the sauce pan with the melting chocolate. You could also use a double boiler like this.
Be sure to continually stir the chocolate until melted.
To help the melting process or if your chocolate seems a bit thick, you can add in Coconut Oil or Candy Melts EZ Thin. I find that the EZ Thins work best.
If you look closely, you can see the white ez thin pieces in my chocolate above. I just sprinkle a small handful- a little goes a long way.
Once your chocolate has melted, lower the temperature of your stove to low or warm, stirring every once in a while.
Next, comes the fun part! Take a toothpick and gently place it in your hardened oreo truffle ball. Dip your oreo truffle ball in the dark or milk chocolate and coat evenly. Place directly back on the parchment paper. Then, before they cool, sprinkle the oreo truffle balls with blue sprinkles or jimmies. Or you can allow them to cool and melt Wilton's Blue Candy Melts (using the same double boiler method) and drizzle them over the oreo truffle balls.
Allow them to cool and set on the parchment paper for about 10 minutes before your peel them off. You may have some extra chocolate pieces on the edges once you pick them up. That is okay-just gently knock them off with a spoon.
Store them in an air tight container in the refrigerator and enjoy!
Don't these look amazing? And the best part is- they are NO BAKE!! Can't get easier than that, folks!
My family devoured these and I know my husband's squad is going to love them, too!
If you make these for your officer or a local department, please share pictures with us. We would love to share them on our social media accounts!
No bake thin blue line Oreo truffle balls
This is the easiest and most delicious thin blue line dessert you will ever make. Rich in flavor and quick on time!
Ingredients
1

package

Oreos

1

block

Cream Cheese

room temperature

2

sheets

Parchment Paper

1

package

Chocolate Candy Melts- dark or milk

Ghiradelli or Wilton's

1

package

Blue Candy Melts

Wilton's

1

container

Blue Sprinkles or Jimmies

Toothpicks

1

container

Candy Melts EZ Thin OR Coconut Oil

(for loosen chocolate)
Instructions
Set the block of cream cheese out to soften to room temperature.

Pulse the package of oreos in a blender until like bread crumbs.

Mix the room temperature cream cheese together with the oreos until a ball is formed.

Using a cookie scoop, form 24-32 balls of oreo truffles and place on a parchment lined cookie sheet.

Place the cookie sheet(s) in the freezer to allow the oreo truffles to harden.

Once hardened, remove the oreo truffles from the freezer.

To melt chocolate, create a double boiler on the stove by filling a small sauce pan 1/4 full with water. Then place a metal dish on top of the sauce pan and fill it with the chocolate candy for melting. Bring the water to a boil.

If the chocolate is thick, you can loosen it by adding a very small spoonful of coconut oil or a very small sprinkle of Candy Melts EZ Thins.

Stir continually until melted. Reduce heat to low.

For coating the oreo truffle, gently place a toothpick in the oreo ball and dip it in the melted chocolate. Coat evenly.

Immediately place the oreo ball back onto the parchment paper.

If adding sprinkles or jimmies, be sure to sprinkle those while the chocolate is still melted- right after dipping into the melted chocolate. Then allow to harden.

If adding blue chocolate lines, you may allow the oreo truffle to harden. Then create a second double boiler and melt the blue chocolate candy. Then take a spoon and drizzle the blue chocolate over the oreo truffle.

Allow the oreo truffles to cool before eating. You can place back in the freezer for one hour to harden or place them in the fridge in an air-tight container.
FREE Police Wife Guide- Top 10 Ways to Rock Police Wife Life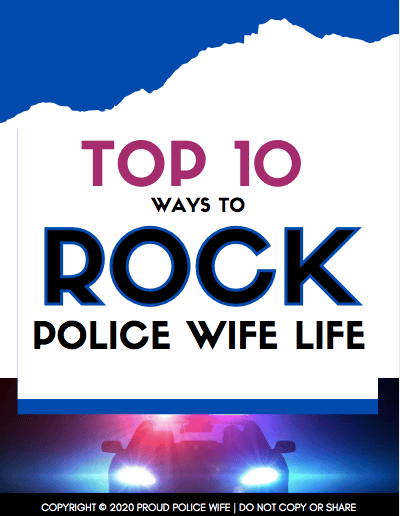 Learn to rock police wife life with these 10 easy tips! Join over 20,000 fellow police wives who are learning to rock it and feel supported with our help each week! Once a week I will provide you with even more ways to feel encouraged and supported for your law enforcement wife journey with my newsletter.
Read my PRIVACY POLICY here.