Growing in popularity these days are podcasts. I love listening to podcasts myself, but have to find the time when I am folding laundry or am driving my kids to and from.
I love listening to a variety of podcasts but podcasts for the law enforcement lifestyle are a great resource and great way to feel more connected to fellow police wives and/or officers.
I love finding new resources and couldn't wait to share these podcasts that are wonderful for navigating police wife life.
If you aren't a podcast listener, I encourage you to try these out. I typically listen to police wife podcasts when I am searching for encouragement for this lifestyle; I always end up relating to the host or podcasters.
Here are law enforcement related podcasts that I recommend:
The Sheepdog Nation by Autumn Schmidt
Photo Courtesy of Autumn Schmidt
First off, Autumn is amazing. She says what everyone else is thinking but never does. She is honest, raw, real and is on a mission. Not only is she an officer and police wife, but she has a goal to knock down the suicide rates in law enforcement by normalizing what our officers experience and feel. Her podcast is great for officers, but also for the police wife as she has a unique perspective (as both an officer and LEOW herself). I encourage you to listen to some of the episodes with your officer- she offers great advice for both of you.
You can also find her podcast on iTunes.
Code 4 Couples by Cyndi Doyle
Photo courtesy of Cyndi Doyle, LPC
Cyndi is also a police wife of many years and a licensed professional counselor. On her podcast, she talks about real issues (in and out of the bedroom!) perfect for law enforcement couples.
Truly, this is the most real podcast you will find about marriage as a law enforcement couple. She makes everything you are going through in this lifestyle feel so normal and relatable.
I recommend checking out her website, as well, it is full of helpful information for your marriage.
(You can even check out episode 35, which is my interview with Cyndi- it was great talking with her)!
You can also listen on iTunes or Libsyn.
The Blue Wife Life Podcast by Mary and Becky
Photo Courtesy of Mary and Becky
This is a rather new podcast by fellow police wives, but it is so needed in our community. Mary and Becky are not only LEOWs but also best friends who want to lend some support to all of you! They are funny and honest, so don't miss out.
They interview a variety of men and women who have experience with so many aspects of law enforcement life.
You can also listen through iTunes or Google Play Music.
And one more podcast I recommend…
Rockin' Relationships 101 by Natasha Motyka
This is just a great podcast for your relationship from again, a fellow police wife! Natasha is a certified life coach who helps men and women revive relationships.
You can listen on iTunes or Libsyn.
I hope you check these out and be sure to leave each podcaster a review- I am sure they would appreciate that! Each of these podcasts fills a need in the law enforcement community and do so in unique ways.
Did I miss a podcast? If you know of a great podcast I should add to this list, be sure to let me know!
And, be sure to check out my favorite apps for first responder families here!
FREE Police Wife Guide- Top 10 Ways to Rock Police Wife Life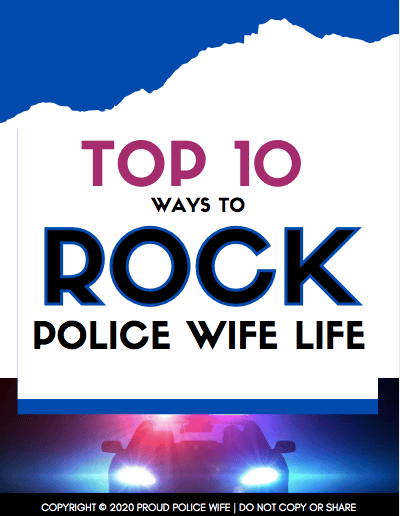 Learn to rock police wife life with these 10 easy tips! Join over 20,000 fellow police wives who are learning to rock it and feel supported with our help each week! Once a week I will provide you with even more ways to feel encouraged and supported for your law enforcement wife journey with my newsletter.
Read my PRIVACY POLICY here.