Have you heard?
We will be holding The First Annual Police Wife Conference from May 6-10, 2019, right before National Police Week! This is a police wife conference like no other!
So what is it?
The First Annual Police Wife Conference is a week long, virtual event. Once you register, you will receive an email each day of the conference with resources, support and, the best part, video interviews with experts from our community.
It is time that we come together, as police wives, and equip ourselves with inspiration, support and tools to navigate police wife life! No excuses! That means no childcare to worry about, no missed work, no travel, no money!
Yep, that's right. The Police Wife Conference is completely FREE, as well.
And, to make it even better, once you register for the event, you will be entered to win one of our giveaway prizes during the event! The conference is 5 days long so that means awesome prizes each day of the event!
To see our amazing lineup of speakers, get all the important details, and to register —> CLICK HERE!
FREE Police Wife Guide- Top 10 Ways to Rock Police Wife Life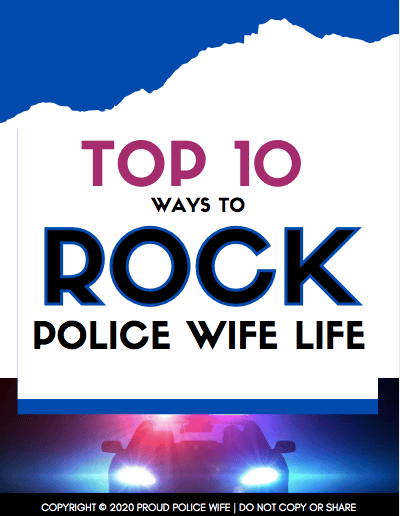 Learn to rock police wife life with these 10 easy tips! Join over 20,000 fellow police wives who are learning to rock it and feel supported with our help each week! Once a week I will provide you with even more ways to feel encouraged and supported for your law enforcement wife journey with my newsletter.
Read my PRIVACY POLICY here.