Looking for free resources for police spouses? I've got you covered.
For years, myself and fellow police spouses looked for resources to help navigate this lifestyle.
And while I did create my blog, Proud Police Wife, as one of those resources nearly 7 years ago, I wanted to bring this community more.
I wanted one, easy to access, jam-packed resource FULL of experts for law enforcement families. Here were the other caveats. It needed to be online, easily accessible around your work and life, and not cost you loads of money.
That's when the Annual Police Wife Conference was born!
This year, April 24-28th, 2023, is The 5th Annual Police Wife Conference and it is a 5-day, online conference with 10+ speakers bringing you the best of the best support for the first responder lifestyle.
And, did I mention, it's FREE?
Yep! The general admission pass is 100% FREE and you get access to all the pre-recorded videos for the conference week. If you need access for longer, you can easily upgrade to our VIP or Lifetime Passes for minimal cost.
Here are some more details…
The 5th Annual Police Wife Conference:
The Police Wife Conference was created specifically for police wives/girlfriends who want to feel equipped and encouraged. You'll get one full week of inspiring speakers, non-stop support, and a chance to win a variety of amazing prizes.
Plus, EXTRA opportunities to win prizes with our virtual BINGO game this year!
The conference is across 5 days, 100% online, with 10+ expert speakers.
We are honored to have Taya Kyle, NY Times Best Selling Author and widow to American Sniper, Chris Kyle, as our Keynote Speaker this year.
To see our full speaker line-up go here.
Registration is NOW OPEN and the conference officially begins April 24th, so be sure to REGISTER NOW
FREE Police Wife Guide- Top 10 Ways to Rock Police Wife Life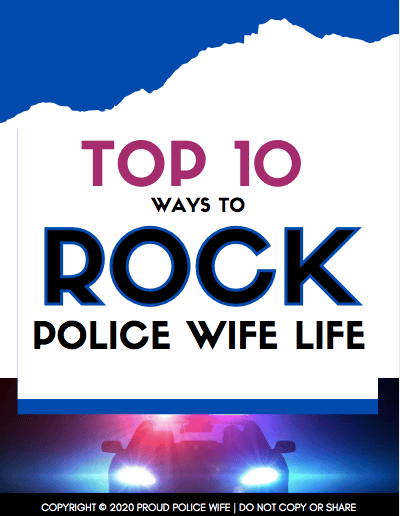 Learn to rock police wife life with these 10 easy tips! Join over 20,000 fellow police wives who are learning to rock it and feel supported with our help each week! Once a week I will provide you with even more ways to feel encouraged and supported for your law enforcement wife journey with my newsletter.
Read my PRIVACY POLICY here.