If you haven't heard, The Police Wife Conference is coming back for it's 4th year! This is a virtual event that is happening April 25th-29th, 2022!
If you are Looking for Resources and Support for Police Spouses, this is for you!
5 days, 10 expert speakers, talking about 10 different topics for law enforcement families. In a nutshell, the best resources and support for police spouses all packed in to one powerful week.
Here are the details:
The Fourth Annual Police Wife Conference is a week long, virtual event where you will have access to 10 experts speakers from within the law enforcement community. Because it is virtual, this means you can watch and listen in your PJs at home if you want or on your lunch break!
Each day, 2 pre-recorded videos will be dripped out in the conference portal. And because we understand everyone's schedules are different, so there are no special view or watch times for each interview. You can view the conference videos any time that is convenient for you.
And, to make it even better, once you register for the event, you will be entered to win one of our giveaway prizes during the event! The conference is 5 days long so that means awesome prizes each day of the event.
Who is it for?
The police wife conference is for ANYONE looking for support about law enforcement. Spouses, parents, girlfriends, fiance´s, boyfriends, etc.
Which registration pass is best for me?
We have three different registration options this year.
General Admission
-This grants you access to all the conference videos just during the week of the conference. This pass is FREE.
VIP Pass
-This grants you access to conference videos for one full year, plus a digital conference workbook. This pass is $27.
Lifetime Pass
-This grants you access to the 2022 conference videos for LIFE. They never expire. Plus, the digital conference workbook, the police wife resource binder (digital), a webinar on how to combat fear and loneliness as a police spouse, and an encouraging message from Fox Host Tomi Lahren. This pass is $47
To learn more about the conference, see who our amazing speakers are, and sign up, visit here:
I can't wait to see you inside the conference!
Like this episode? Be sure to subscribe to the Proud Police Wife Podcast and leave a review.
Want to stay in touch? Be sure to follow me on Instagram to watch my funny and encouraging reels and check out my IG stories for more behind the scenes.
FREE Police Wife Guide- Top 10 Ways to Rock Police Wife Life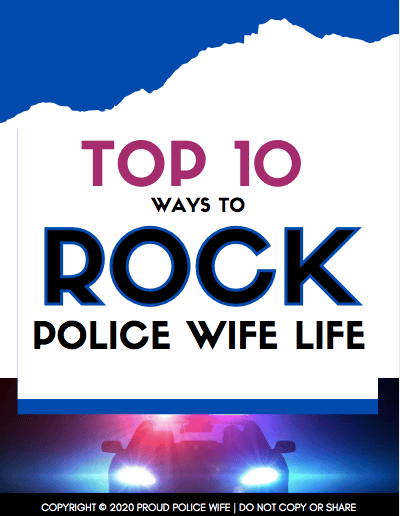 Learn to rock police wife life with these 10 easy tips! Join over 20,000 fellow police wives who are learning to rock it and feel supported with our help each week! Once a week I will provide you with even more ways to feel encouraged and supported for your law enforcement wife journey with my newsletter.
Read my PRIVACY POLICY here.