This is a sponsored blog post on behalf of Honor the Brave. All opinions are honest and my own.
If you are planning on buying or selling your home anytime in the foreseeable future, keep reading!
Picture this: you are a first responder or military family, you are buying and/or selling your home, and get money back at the end of your transaction just for your service!
That's exactly what co-owner of Honor the Brave, Zanna Wolfgang, shared with us on Episode 41 of podcast.
Zanna and her husband Jeff Wolfgang, former police officer, started Honor the Brave several years ago as a way to give back and serve the first responder and military communities. Jeff was injured in the line of duty and his career ended prematurely but he wasn't ready to say goodbye to the first responder family altogether.
So Zanna and Jeff joined forces and Jeff went into real estate, Zanna's career, but with the sole mission, to give back with a real estate program to the first responder and military communities.
The Best Real Estate Program with Brave Benefits:
By using Honor the Brave and one of their selected realtors, you get access to their brave benefits.
Here's how it works:
If you are current or previous law enforcement, dispatch, fire, EMS, military, etc. then you are eligible to use Honor the Brave.
You can contact them by going here and they will set you up with a realtor in your area. Honor the Brave is Nationwide and work with partners across the country.
You go through the buying and selling process like normal with your realtor. You can use your preferred lender or Honor the Brave has lenders they know, use, and trust, that they can recommend.
The programs real estate partners have the same beliefs as Honor the Brave and want to give back to first responders and military, as well. So the first Brave Benefit you would receive is the realtor graciously gives up a portion of their commission to you (the buyer or seller) at the end of the real estate transaction.
The next Brave Benefit is that you will receive a beautiful, wooden, flag as extra appreciation for your service and sacrifice from Honor the Brave.
Here is the beautiful, handmade flag we received after our Honor the Brave transaction:
And if you have been around here for any length of time, then you know I ONLY share about companies that I know, use or trust. Well, Honor the Brave is not different as my husband and I personally went through the Honor the Brave real estate program when buying and selling our home.
As part of our Brave Benefits, we received $500 when selling our home and another $500 when buying our new home. Working with Honor the Brave feels like you are working with family and it was the SMOOTHEST transaction ever.
So how can you work with Honor the Brave and get money back after buying and/or selling?
It's really easy, honestly!
There are a few ways to get in contact with them:
Contact them through their website here.
You can personally call the owners, Jeff and Zanna Wolfgang at: 406.580.5165 or 406.209.6435
Or contact them via email at: zannawolfgang@gmail.com or jwolfgang24@gmail.com
Be sure to follow Honor the Brave on Instagram here.
FREE Police Wife Guide- Top 10 Ways to Rock Police Wife Life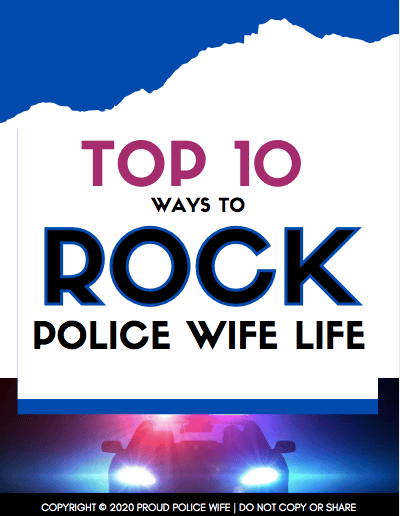 Learn to rock police wife life with these 10 easy tips! Join over 20,000 fellow police wives who are learning to rock it and feel supported with our help each week! Once a week I will provide you with even more ways to feel encouraged and supported for your law enforcement wife journey with my newsletter.
Read my PRIVACY POLICY here.