The past two years have been nothing short of difficult for law enforcement officers and their families.
We've gone through and witnessed vile hatred towards cops, media spun lies, defunding of police and much more.
But as families, it can be hard to sit back and watch this all happen. We already deal with loneliness from the job, single but married parenting, unsupportive friends and family, fear, just to name a few.
If you are searching for hope and strength during the war on cops and the law enforcement lifestyle, then look no further.
The Best Devotional for Hope and Strength During the War on Cops
One true way to carry you through this lifestyle and any hard times is your faith in God. He is the same today, tomorrow, forever and His promises will never change.
I put together a resource that reminds you where to draw your hope and strength from using applicable Scriptures, my personal experience(s), action steps for you as a reader, and a daily prayer.
As a law enforcement spouse, you face a unique set of challenges. Ones that many don't understand. Rest assured, you can have joy and find peace every day with God by your side.
If you are ready to gain your confidence as the heart behind the badge and strengthen your relationship with God, then buy your copy today.
FREE Police Wife Guide- Top 10 Ways to Rock Police Wife Life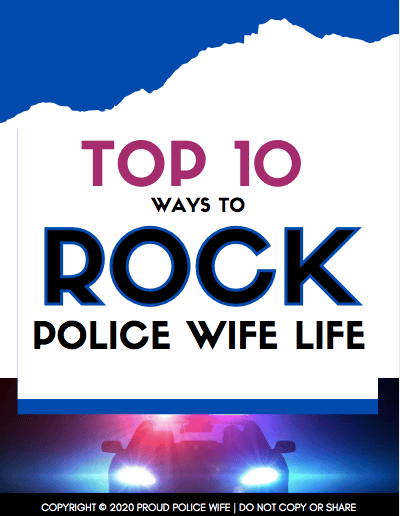 Learn to rock police wife life with these 10 easy tips! Join over 20,000 fellow police wives who are learning to rock it and feel supported with our help each week! Once a week I will provide you with even more ways to feel encouraged and supported for your law enforcement wife journey with my newsletter.
Read my PRIVACY POLICY here.