Isn't there something great about having a book in your hands? Don't get me wrong, I love reading and learning from information on the web (obviously, because I have a blog), but I also love snuggling up with a good book or reading one to my kids. Even better, I love reading books that help me grow and encourage my police wife life.
And from time to time, my officer will recommend a few good books, too. And if he recommends them, you know they are good!
But let's not forget books for your little ones. Nothing could be better than seeing my kids' smiling faces while I read a book about "daddy at work". It always helps them understand his job better and stop those tears when they miss him!
So whether you need books for you, your officer or the rest of your law enforcement family, we've got you covered!
Great reads for police wives:
Proud Police Wife: 90 Devotions for Women Behind the Badge
This is my newest devotional for any woman behind the badge. It begins with applicable Scriptures, relatable stories from my personal experience as a 16 year police wife, action steps for the reader, and a prayer. If you are looking for hope and strength for the law enforcement lifestyle, then this book is for you.
The Peacemaker's Wife: A journal for reflection and encouragement in your life as a police wife by Rebecca Lynn (me!). This is a journal with encouraging writing prompts to help you navigate police wife life. I wrote this journal to help you remember that YOU have to make yourself a priority in this lifestyle. You can't pour from an empty cup. I want you to feel confident that what you do each and every day is your best and your best is good enough!
A must-read by police wife and licensed counselor, Cyndi Doyle! This is THE book for any law enforcement relationship! And Cyndi backs up her theories with research and experience helping to explain the WHY behind what your relationship goes through.
Cuffs and Coffee: A devotional for the wives of America's law enforcement by Allison Uribe- such a fabulous read!
I love this devotional that is filled with encouragement and prayer. It also has ample space for you to write your own thoughts!
Armor of God for Police Wives by JJ Gutierrez
This is a bible study specifically for police wives, girlfriends and fiance´s. It compares law enforcement life to the Armor of God.
Because I Suitable: A journey of a wife on duty by Allison Uribe
I Love a Cop by Ellen Kirschman
Bullets in the Washing Machine by Melissa Littles
A great, relatable read, but if you are overly emotional, you may want to wait. I definitely had tissues handy while reading this one!
A Chip on My Shoulder: How 2 Love and Support Your Cop by Victoria Newman
I've just started to dive into this one and I thoroughly enjoy it. It gives fantastic insight into how this lifestyle impacts both police wives and officers.
Crossing the Thin Blue Line by Lisa Lerner. Lisa is the founder of Bless the Badge Ministries and she is helping law enforcement families across the nation.
Wives Behind the Blue by Monica Amor. This is a collection of stories and advice from 18 police wives. I just read this one and loved it!
Love Behind the Blue Line: Stories of Love, Courage, Hope & Legacy by Rachel Dolcine. This book also shares a collection of stories and truth from several fellow police wives.
Books for the officer or police couple:
Bulletproof Marriage: A 90 Day Devotional by Adam Davis and Lt. Col. David Grossman. This is a phenomenal devotional for Christian law enforcement couples to read and implement together.
Behind the Badge: 365 Daily Devotional for Law Enforcement by Adam Davis. Adam is a former police officer and I have read great reviews on this devotional for the officer.
Emotional Survival for Law Enforcement by Dr. Gilmartin (great for both the officer and spouse)
This is a book that my husband's department encouraged him to read. My husband has also heard Dr. Gilmartin speak at his agency and his book only goes more in depth. Dr. Gilmartin gives amazing insight into what our officer's are thinking on and off the job and how it impacts their professional and personal lives. I was thrilled when my husband suggested I read it because I felt it put us on the same page a bit. I understand his thinking and his career much more now.
A Marriage in Progress: Tactical Support for Law Enforcement Relationships by Victoria Newman
Break Every Chain: A Police Officer's Battle with Alcoholism, Depression, and Devastating Loss, and the True Story of How God Changes His Life Forever by Jonathan Hickory
Books for the little ones in your law enforcement life:
Fly Guy Presents: Police Officers by Tedd Arnold
Police: Hurrying! Helping! Saving! by Patricia Hubbell
A HERO Lives in my Family by Dr. Susan Hunt
The Police ABC's
My Daddy is a Police Officer by Donna Miele
My Mommy is a Police Officer by Donna Miele
My Daddy is a State Trooper by Donna Miele
New, great reads are steadily coming out for our law enforcement community which is amazing! It is a true need and bringing normalcy to so many of the topics in our lifestyle is important, even for the little ones in our life!
Which of these books are you excited to read??
FREE Police Wife Guide- Top 10 Ways to Rock Police Wife Life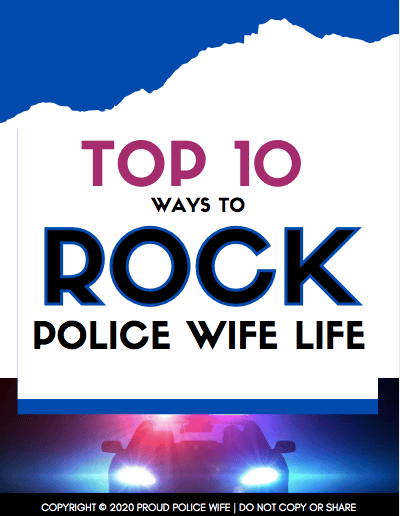 Learn to rock police wife life with these 10 easy tips! Join over 20,000 fellow police wives who are learning to rock it and feel supported with our help each week! Once a week I will provide you with even more ways to feel encouraged and supported for your law enforcement wife journey with my newsletter.
Read my PRIVACY POLICY here.