HOW TO TELL YOUR KIDS DADDY IS A POLICE OFFICER
My husband and I have three kids under 5. They think that we should be home with them all the time, playing all the time. When my husband is at work I feel like a broken record. They are constantly asking for daddy or wanting to do Facetime with daddy. Why did I start that? Ahhh!! No I am kidding, it is a nice feature that we can use once in a while when it has been a few days since we have seen him for more than 5 minutes. Seriously though, they sometimes drive me nuts with how often they ask for him. At the same time, I love it. I LOVE how much they love him and want him to be with us. With that being said, my LEO and I find ourselves having a lot of conversations with the kids about why daddy has to go to work. I am sure every family can relate at some point. Daddy has to make money for our family so we can have a home, eat healthy food, etc.
WHAT I RECOMMEND
Conversations then come up about WHAT daddy does for his job. We have obviously told them that he is a police officer. I am sure you can also relate to the fact that kids ask A MILLION questions. Ours do just that about their daddy being a police officer. We answer all of them the best that we can but no matter what our answer is, there is one thing in common: WE KEEP EVERYTHING POSITIVE. I can't stress this enough.
My husband and I both feel that, in general, kids should be taught that law enforcement is there to HELP YOU. Their goal is NOT to take people to jail; ours kids don't even know what jail is! We tell them scenarios like: if you are lost, you find a police officer for help. If you are in a dangerous situation, you ask a police officer for help.
It is too often that we both hear young kids saying, "I am afraid of the police" or "Police take people to jail if you are a bad kid". I heard it far too often when I was a teacher. We don't want our kids to see police in that light EVER because it simply is not true.
To our kids, their daddy is a HERO, because he absolutely is! They see all law enforcement that way. While I may feel scared at times when my LEO leaves for work, I don't ever let my kids see it. I simply don't want their views of their daddy to ever change. When our LEO walks out the door, our kids run to the window and shout "Daddy, you are my superhero!!!" It seriously melts my heart.
We also read our kids the book [easyazon_link identifier="1514861224″ locale="US" tag="proudpolice09-20″]A Hero Lives in My Family: A Story for Kids of First Responders (Kids Hero Series) (Volume 1)[/easyazon_link]. For very young children, it is absolutely helpful. It has engaging illustrations and is quick and simple to read. It also didn't leave my kids with a lot of questions. Check it out!
THE MEDIA
One other thing we don't do is keep the news on when they are awake. Police are obviously in the media a lot right now. It simply is not appropriate for them to hear.  Not to mention all the other negative stories in the media. Little people simply should not hear about big people problems.
So bottom line, keep things POSITIVE. Build up your police officer. Show your kids how proud you are of him/her. It truly does matter. We are building the future generation. A generation that should not see a war on police.
FREE Police Wife Guide- Top 10 Ways to Rock Police Wife Life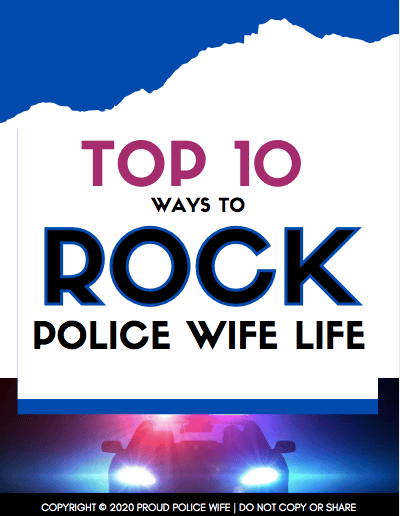 Learn to rock police wife life with these 10 easy tips! Join over 20,000 fellow police wives who are learning to rock it and feel supported with our help each week! Once a week I will provide you with even more ways to feel encouraged and supported for your law enforcement wife journey with my newsletter.
Read my PRIVACY POLICY here.