Night Shift Hubby…It's Not that Bad
My LEO has spent most of his 10 year LE career on night shift. He just recently went to evening shift, but in my book it's nearly the same as night shift. Let's face it, they almost never get home "on time" in their line of work.
Night shift is definitely not all apples and roses, but over the years I learned to find the silver lining. Days, or should I say nights, is ultimately hard with 3 little ones and a very hyper dog, but I try to embrace it as best as I can.
Here is my list of "Positives to Night Shift":
TV: I get to watch what I want on TV. I like trashy TV at times…Bravo Network, Bachelorette, etc. and I don't have to fight my hubby for the remote or hear him complain about what I am watching.

Sleep: When I am completely exhausted at night, I can lay in my bed and spread eagle. No one to steal the covers, except maybe the dog!

Shower: I don't have to fight hubby for a warm shower in the morning. By this time, he is sound asleep and I get the bathroom to myself, relatively speaking. I still have 2 girls trying to play in my makeup bag, though!

Dinner: Hubby is more of a meat and potatoes kind of guy. I love comfort food, especially pasta. I take advantage of the nights he is working to cook more of my favorite meals!

I'd love to hear from you!! What do you find to be "positive" about hubby working nights?
FREE Police Wife Guide- Top 10 Ways to Rock Police Wife Life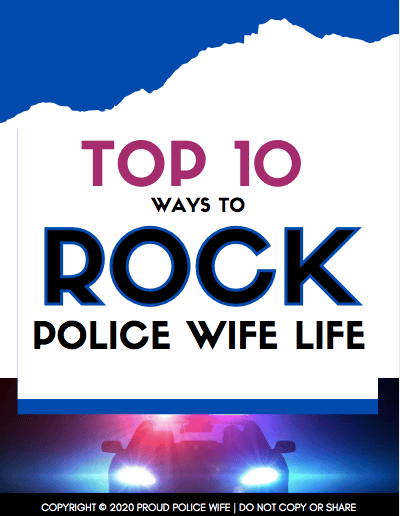 Learn to rock police wife life with these 10 easy tips! Join over 20,000 fellow police wives who are learning to rock it and feel supported with our help each week! Once a week I will provide you with even more ways to feel encouraged and supported for your law enforcement wife journey with my newsletter.
Read my PRIVACY POLICY here.