Thank you to Thin Blue Line USA for sponsoring this post! All opinions and reviews are honest and mine own. I only share brands I know and trust.
It has always been important to me to show my love and appreciation for law enforcement. First responders rarely get the credit that they deserve and a little encouragement goes a long way, especially in today's climate.
More importantly, as a police wife I love to show my officer support and love for the Blue Line family. While this love and support always starts at home and comes from the heart, I also like to proudly show my officer just how much I appreciate his daily sacrifice while wearing or displaying thin blue line gear.
Around our home you can find thin blue line flags, clothes, decals, signs, and so much more. My favorite, subtle way to show appreciation is with a thin blue line garden flag. It is in the privacy of our own backyard garden and I love looking out our kitchen window each morning and seeing it blow in the wind.
Our kids show their love for law enforcement, too! They simply could not be prouder to show my husband what they are wearing for the day when it represents law enforcement! Even our one year old- he just doesn't know it yet. 😉 I am proud to say that our children can point out a thin blue line product and they know exactly what it stands for!
My Go-To Source
A brand that I know and trust, wholeheartedly, is Thin Blue Line USA (TBL USA). I trust that the apparel and thin blue line gear that I am purchasing from them will be made with quality products that I can use time and time again. Many of the products from TBL USA are American made, like the thin blue line flag, a well-known symbol for law enforcement. When my recent shipment of clothes came from TBL USA, I loved seeing it ship straight from a warehouse in Michigan, where all their clothes are locally pressed.
The main reason I always choose to buy from Thin Blue Line USA is their mission. Their brand's mission is to support and give back to all those who are first responders. The owner and creator of Thin Blue Line USA saw a lack of support for law enforcement across America and locally in his hometown. The creator's very close friend was also an officer that he very much supported. This gave the inspiration to begin Thin Blue Line USA and make a difference in the first responder community.
They strive to be a company that supports law enforcement on a national level, that is why a portion of every purchase is put right back into the community. Thin Blue Line USA has an immense dedication to the men and women of law enforcement, giving back more than $160,000 to families in need, this year alone. In addition to being proud sponsors of law enforcement non-profits, TBL USA also has a $10,000 scholarship fund giving back to the children of law enforcement, a tradition inspired from the owner's own father, another huge law enforcement supporter.
Positive Awareness for Law Enforcement
Thin Blue Line USA saw the climate of hatred for law enforcement and knew that finding a way for supporters to spread their appreciation is what was needed in our country. Yes, they sell products to help you show officers of the law support, but they also go within the community to emphasize the amazing sacrifices and commitments our officers make on a daily basis.
Tired of struggling with night shift?
You CAN find balance while your officer works night shift! This handy NIGHT SHIFT ACTIVITY LIST & TRACKER will help prepare you for any long nights ahead. Join over 2,000 fellow police wives and download your copy today!
I, too, show my support for law enforcement in hopes that the appreciation for first responders will grow and the negative awareness will diminish. Some support is kept in my home and others I show in public; it entirely depends on the situation.
As a nation, we all must come together, to highlight the hard work and dedication of the brave members in blue. Support is the only way we can win this war against police.
Knowing I give back, each time I purchase from this company, all while giving support, is why I keep going back to Thin Blue Line USA. It doesn't get any more American than that. If you are looking for ways to give continued support, you must check them out. A list of my favorite thin blue line items to purchase can be found here.
You can also receive 15% off your order with the code 'PROUD15'. How awesome is that?
FREE Police Wife Guide- Top 10 Ways to Rock Police Wife Life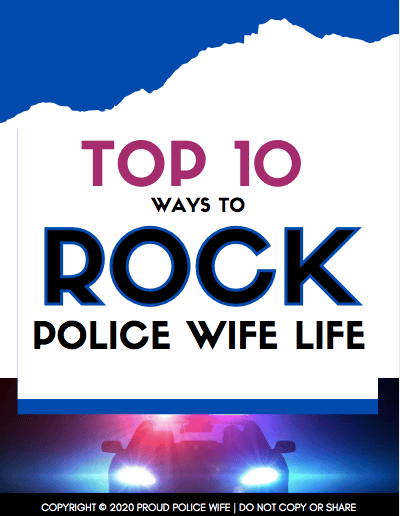 Learn to rock police wife life with these 10 easy tips! Join over 20,000 fellow police wives who are learning to rock it and feel supported with our help each week! Once a week I will provide you with even more ways to feel encouraged and supported for your law enforcement wife journey with my newsletter.
Read my PRIVACY POLICY here.