Scholarship information found on Scholarships.com
I get asked almost weekly if I know of any law enforcement scholarships. Sometimes they can be hard to find but they do exist. And you are going to want your child(ren) to apply if they meet the scholarship requirements because, as we know, higher education is NOT cheap.
Getting scholarships for college these days is almost necessary, not to mention, having financial assistance can reduce your financial stress drastically.
This is a comprehensive list of all the current scholarships I know of.
Law Enforcement Scholarships for Children of Law Enforcement:
The US Deputy Sheriff's Association Scholarship
They currently offer a $2,000 scholarship. Deadline to apply is 06/01/2023. Learn more about the scholarship here.
America's 911 Foundation, Inc. Scholarship
This scholarship was created after the devastating acts that occurred on 9/11 and to remember all first responders who place their lives on the line. This law enforcement scholarship is for $2,000 and any student whose parent is an active first responder is eligible. Read more details here.
Peace Officer's Memorial Foundation Scholarship
This scholarship is for children whose parent is a Texas Peace Officer and is for $500. See if your child is eligible here. Deadline to apply is April 9th, 2023.
First Responders Children's Foundation- Vincent Bennett, Jr. Memorial Scholarship
This is a four-year scholarship totaling $20,000. This is for an incoming freshman who lost a parent in the line of duty or whose parent was permanently disabled. For full details and requirements visit here.
Operation Thank an Officer
Children of active or retired law enforcement, or children of officers who have passed away (high school seniors and college students may apply). For more details, go here.
The Brooking Industries Scholarship
This scholarship is for both high school or college-aged students looking for a career that complements law enforcement or similar fields. The deadline varies but the amount given is $10,000. Learn more here.
Grab the All-in-One Police Wife Reference Guide
Grab this handy reference guide for all things police wife! From important dates & events to resources for law enforcement- all in one place! Subscribing also gets you access to my weekly newsletter full of tips and encouragement.
Read my PRIVACY POLICY here.
Operation Thank an Officer Scholarship- High School
This scholarship offers a $1,000 award for two applicants that are preparing to enter a college or university. Both recipients must have a parent that is active or retired law enforcement. Learn more here.
Federal Resources Warrior's Legacy Scholarship Fund
This scholarship was created for the families that give it all and protect our communities daily. One $5,000 scholarship will be awarded with a winning 500+ word essay. Apply for the scholarship fund here.
ACHE Police Officers and Firefighters Survivors Educational Assistance Program
This scholarship is for applicants that reside in Alabama and attend or plan on attending an Alabama state school. Dependents and spouses of police officers or firefighters killed in the line of duty are eligible. Deadlines and scholarship amounts vary. Learn more here.
Children of Disabled or Deceased Public Servants Scholarship
For residents of Texas who lost a parent in the line of duty prior to year 2000, or have been disabled in the line of duty. For award amounts and more specific details, please visit the scholarship website here.
The Silver Shield Foundation
This scholarship is specifically reserved for children of fallen police officers and firefighters killed in the line of duty. The scholarship amount varies. If you are a surviving child, you can get more information here.
This post will continue to be updated as we learn about more available scholarships or if/when scholarship information changes. You can also go here to look at a more comprehensive list of law enforcement scholarships.
FREE Police Wife Guide- Top 10 Ways to Rock Police Wife Life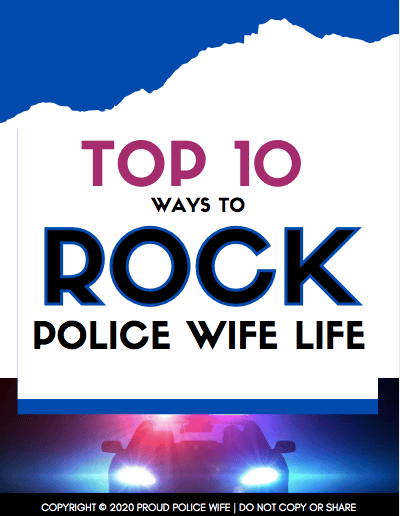 Learn to rock police wife life with these 10 easy tips! Join over 20,000 fellow police wives who are learning to rock it and feel supported with our help each week! Once a week I will provide you with even more ways to feel encouraged and supported for your law enforcement wife journey with my newsletter.
Read my PRIVACY POLICY here.