This is a sponsored post on behalf of BeardBlanket. All work is honest and my own.
Think about how often police officers are at work. They are getting ready several days in a row, preparing uniforms and gearing up day after day. They have to not only be mentally prepared but they have to present themselves in a professional way with fresh hair cuts and clean-shaven faces several days a week.
I can't tell you how many times my husband would shave his face in one week. Some weeks, every day. Even with an electric razor, he would still get razor bumps, red skin and irritations. He could not go without shaving, even just one day, without seeing stubble. But that stubble is seen as unprofessional and just wouldn't fly while on duty.
If your officer's skin is irritated from shaving, getting ingrown hairs or razor burn because they have to look prepared day after day then check out this new, very practical shaving tool made by police officers for police officers. It will truly solve your officer's shaving problems!
The practical gift to help police officers before duty even starts:
Our spouses deserve to be comfortable on duty and off. They shouldn't worry about burning facial skin while on duty out in the elements. Those skin irritations from shaving worsen if they deal with acne or are in the cold or heat for long hours at a time.
But your officer can solve those problems with the newest shaving tool kit, the BeardBlanket, designed with law enforcement in mind.
BeardBlanket was designed by two New York veteran police officers who were tired of dealing with the negative side effects from shaving.
With the use of just hot and cold water, BeardBlanket moistens the face and hair follicles and lets your officer shave easily with a reduction of side effects from constant shaving. BeardBlanket is all natural and functions without the use of harsh chemicals. Just water and temperature of the water allows your officer to shave easily with no mess!
Grab the All-in-One Police Wife Reference Guide
Grab this handy reference guide for all things police wife! From important dates & events to resources for law enforcement- all in one place! Subscribing also gets you access to my weekly newsletter full of tips and encouragement.
Read my PRIVACY POLICY here.
It also comes in a convenient carry case with space to hold all razors and shaving accessories.
While my husband loves getting gifts for his favorite hobbies and such, he also loves practical gifts. And I am all about helping him feel more comfortable on and off the job. I love that the BeardBlanket can solve any shaving issues he has and he can take it to the station, gym or keep it at home as it travels well.
FREE Police Wife Guide- Top 10 Ways to Rock Police Wife Life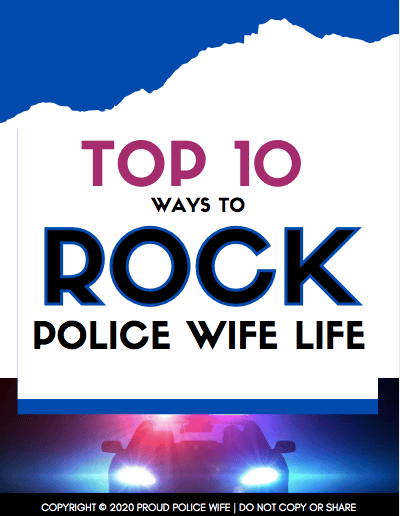 Learn to rock police wife life with these 10 easy tips! Join over 20,000 fellow police wives who are learning to rock it and feel supported with our help each week! Once a week I will provide you with even more ways to feel encouraged and supported for your law enforcement wife journey with my newsletter.
Read my PRIVACY POLICY here.