This post in sponsored by Arrest My Vest. All opinions are honest and my own.
Raise your hand if you've even gotten a whiff of smelly vests, uniforms, boots or gear? Probably every police officer and family member and it's nearly guaranteed to happen in the heat of the summer.
So how exactly can you keep all that police gear and vests smelling clean even during the summer months?
Better yet, how can you keep things smelling good without adding extra chemicals to your clothing, cruiser, K9 and more?
Here are some of the top ways!
Easy, Non-Toxic Ways to Keep Police Gear & Vests Smelling Clean
Air Out All Gear, Boots and Uniforms Immediately After Use
Seems like a no brainer right? But many officers leave their gear and uniform in a locker at work. When sweaty, smelly gear gets shoved into a small locker with little ventilation, they are only going to continue to smell. Allowing items to breathe will help with any stinky situations.
Use Arrest My Vest in Between Washes and On All Gear and Boots
If you haven't tried Arrest My Vest yet to keep police gear and vests smelling clean then you don't know what you're missing!
Arrest My Vest is odor eliminating spray that was specifically designed for taking strong odors out of vests, gear, uniforms and more. It is even safe on and around K9s!
It truly removes any smells and FAST! So in between washes (and before you stick that uniform and vest in your locker) be sure to spray it down with Arrest My Vest spray. Our favorite scents are Night Shift and Midnight.
In our home, we spray Arrest My Vest on EVERYTHING! Not only does my husband use it on gear, in his boots, his work car, but I also keep one in my laundry room for ANYTHING that smells and in my van in case, ya know, kids leave a smelly drink cup in the car.
Plus, for items that can do in the wash, Arrest My Vest also carries Laundry Booster. You pour in 1/4 cup of laundry booster WITH your regular laundry detergent and your clothes will smell as good as new.
What's even better is that Arrest My Vest is all natural and safe to use around kids and pets.
USE MY CODE THANKYOU (all one word) for 15% off at Arrest My Vest.
Wipe Down and/or Wash Everything Regularly
Another simple thing to do but let's face it, when you are tired (or your officer) is tired at the end of the day, wiping down gear or washing uniforms is probably not at the top of the list. Maybe it gets taken care of hours before they have to leave for work. Then you have major regrets that you did nothing when you could have.
We try to leave the washing machine open in our home around the time my husband is expecting home. That way, he can throw any dirty, smelly items in the wash immediately.
Items that can not go in the wash, get either aired out, wiped down or sprayed with Arrest My Vest.
How First Responders Can Keep Vests, Gear and Uniforms Smelling Fresh During Summer Heat
FREE Police Wife Guide- Top 10 Ways to Rock Police Wife Life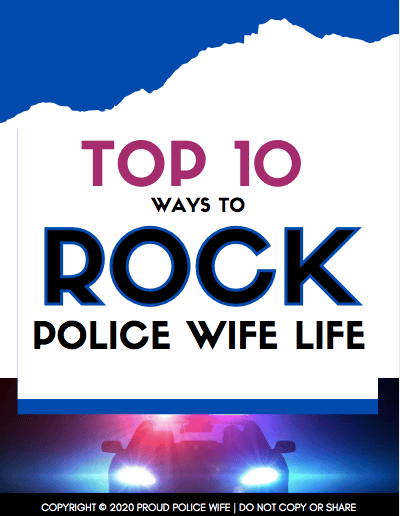 Learn to rock police wife life with these 10 easy tips! Join over 20,000 fellow police wives who are learning to rock it and feel supported with our help each week! Once a week I will provide you with even more ways to feel encouraged and supported for your law enforcement wife journey with my newsletter.
Read my PRIVACY POLICY here.