My husband has spent most of his 10 year law enforcement career on night shift. He just recently went to evening shift, but in my book it is nearly the same as night shift. Let's face it, they almost never get home "on time" in their line of work. Your hubby may text that he is getting ready to leave the office, but even THAT isn't always true. So many times, I wait and wait and wait, oh surprise, he got a call just as he was leaving.
Night shift is definitely not everyone's cup of tea, but over the years I have learned to find the silver lining. Days, or should I say nights, can be difficult with three little ones and an uncooperative dog, but I try to embrace it as best as I can. It is our way of life and has been for so long, I really don't know anything different at this point. I figured out a long time ago that I better stop complaining, deal with it, and learn to like it.
There are actually good things associated with night shift. As a police wife, I want you to learn to love this life. You don't have to love everything, but I hope to help you find ways to love it more than you did yesterday!
Let me tell you why!
4 Reasons to Like Night Shift:
You can hog the TV
 You get to watch what you want on TV each night. I like reality TV and my officer does not. When he is working I don't have to fight him for the remote or hear him complain about what I am watching. Bravo Network, The Bachelor, LifeTime movies; I can pick whatever I want and you can too! To be honest with you though, finding time to even watch TV when he isn't home is hard to do. This blog is keeping me a tad bit busy, but in a good way! 😉
Sleeping Alone
Okay, this is one thing most of us don't like to do. We have gotten over being scared at night when alone, but we will always miss our law enforcement officers. Hear me out. When I am completely exhausted at night, I like to lay in my bed and have it all to myself! No one to steal the covers, except maybe the dog! Yes, I would much prefer to not be alone, but having the bed to myself and spreading out is also nice! You can grow to like this, too! Nice new comfy sheets, LifeTime movie, cozy bed all to yourself. Give it time, you will like it.
Tired of struggling with night shift?
You CAN find balance while your officer works night shift! This handy NIGHT SHIFT ACTIVITY LIST & TRACKER will help prepare you for any long nights ahead. Join over 2,000 fellow police wives and download your copy today!


We won't send you spam. Unsubscribe at any time.
Powered by ConvertKit

No Sharing the Bathroom/Hot Showers
When my LEO (law enforcement officer) gets home well into the morning, his head is usually just hitting the pillow when I am just starting my day. I can have the bathroom to myself, relatively speaking, as long as my kids stay asleep while I am showering! I try to get up even before the kids do, so I can have time to get ready alone. So, wouldn't it be nice to not have to share the bathroom and apply your makeup in a steamy bathroom? In our old home, we had one tiny bathroom. Sharing it was NOT fun. So I actually looked forward to getting ready alone and not feeling rushed.
Meal Time
My LEO (law enforcement officer) is more of a meat and potatoes kind of guy. I love comfort food, especially pasta. My husband could get by only having pasta once a week, if that. I take advantage of the nights he is working to cook more of my favorite meals using my meal planning guide! AUse those nights to make what you want to eat or make meals your LEO may not enjoy. You could even experiment with new recipes. If it doesn't turn out well, no big deal, he won't complain. 😉 I also use this time to meal plan or prep meals, if my kids let me. 😉
I encourage you to embrace this life as best as you can. It will only help you to live this lifestyle more positively. It really did take me a long time to get to this place. A place of feeling comfortable, positive, and semi-balanced. Try to step back, look at your current police wife life, and find one thing that is positive about your husband's schedule. If nothing else, remember "Absence makes the heart grow fonder." Being away from your officer is hard and you miss him, but it is even better when he returns home!
If you need more encouragement and support for not just night shift, but this lifestyle in general, be sure to check out my NEW book on Amazon, The Peacemaker's Wife. You will not be disappointed!
Do you like night shift? Tell us why?
FREE Police Wife Guide- Top 10 Ways to Rock Police Wife Life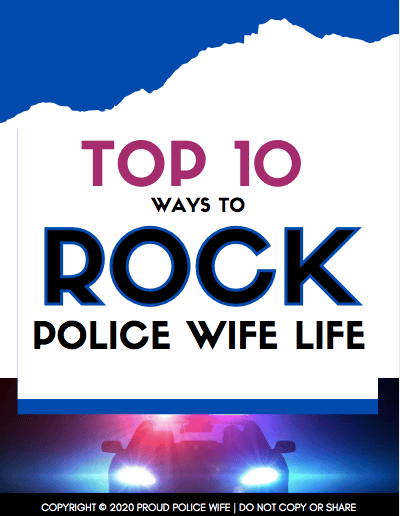 Learn to rock police wife life with these 10 easy tips! Join over 20,000 fellow police wives who are learning to rock it and feel supported with our help each week! Once a week I will provide you with even more ways to feel encouraged and supported for your law enforcement wife journey with my newsletter.
Read my PRIVACY POLICY here.