This post is sponsored by Arrest My Vest. All opinions are honest and my own.
National Thank a Police Officer Day is recognized every year on the third Saturday of September. (Not to be confused with Police Week in May or Law Enforcement Appreciation Day in January).
This year National Thank a Police Officer Day is Saturday, September 16th, 2023. While law enforcement needs our support and thanks every day of the year, this is a great day to go the extra mile and let local law enforcement know how much you appreciate them.
Below are some ways you can easily say "thank you" and show some support:
Pass out "thank you" cards
This can literally cost you anywhere from a few dollars to nothing. Grab some cute cards or make some using what you have at home. Then pass them out to local departments or officers you may see while working.
Or you can download these new cards below and have them sent to your email immediately.
Make and pass out police appreciation bags
A very popular way to say thank you to police officers is for people to pass out police appreciation bags. Blue or black bags are popular and you stuff them with small items that may be helpful for an officer while on shift.
Here are some items to include:
Arrest My Vest mini sprays– this is my absolute favorite item to include. The bottle may be little but boy is it powerful (while also being all-natural and non-toxic). Arrest My Vest spray eliminates odors from vests, tactical gear, boots, cars and much more! We literally use this spray every day.
Our favorite scents are Midnight, Stressless and Unscented. Arrest My Vest has bundle deals where you can purchase multiple sprays for a discount. On top of that, you can use my code POLICEWIFE (all one word) to save 15% off your purchase.
Include these in your appreciation bags or pass them out along with the free printable I mentioned above!
Bottled Water
Also, If you plan early enough, you can try getting gift cards from local small businesses to include in the bags. Coffee cards or free quick and easy meals are always a hit!
Pay for an officer's meal or coffee
This is so simple to do! If a police officer is behind you in line or you see one seated at a restaurant, pick up their tab. And this doesn't just have to be on September 18th. This kind gesture will be appreciated by law enforcement any day of the year!
Say "thank you" in a meaningful way
Truly, the easiest thing to do and it takes little effort. Say WHY you appreciate law enforcement goes a long way. Like this "Officer, thank you so much for all you do. I know not everyone says it but more people appreciate you than not."
Plus, you may just bring light to their day that they desparely need. How awesome is that?
Have your children draw pictures and write notes to be passed out at a local station
These always turn out so cute!
If you need some inspiration, feel free to download these coloring pages that I created. They also include journal pages to write a letter to law enforcement.
Contact a police station and ask them what supplies they may need that you could donate
This is a great idea to do with a group of people. Maybe your local department needs snacks in their break room, hand sanitizer, lysol wipes, bottled water, etc. If you picked one item and had friends chip in then this would be an easy way to make a donation more financially possible.
No matter what you decide, remember that any support to law enforcement is appreciated!!
FREE Police Wife Guide- Top 10 Ways to Rock Police Wife Life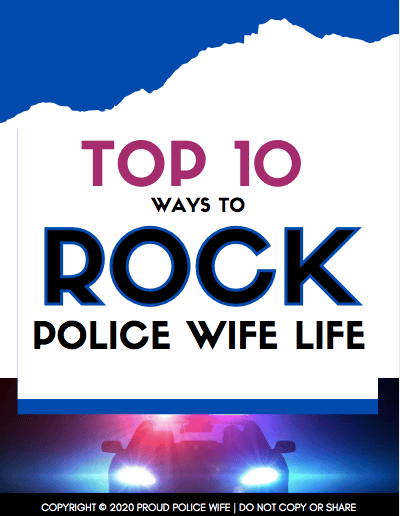 Learn to rock police wife life with these 10 easy tips! Join over 20,000 fellow police wives who are learning to rock it and feel supported with our help each week! Once a week I will provide you with even more ways to feel encouraged and supported for your law enforcement wife journey with my newsletter.
Read my PRIVACY POLICY here.