This post is based on a partnership with Oriental Trading. All opinions are honest and my own.
National Law Enforcement Appreciation Day is celebrated every year on January 9th in the United States. It is a day for citizens to come together to show thanks, appreciation and support for our nations law enforcement.
While you can (and should) show support to law enforcement all the time, it is nice having a dedicated day in which to do so.
One of the most common questions I get asked is "how can I show support to law enforcement?" My answer is "it's not hard and doesn't need to be grand."
Here are some ways you can show support to law enforcement and celebrate them!
Ways to Show Support and Celebrate to Law Enforcement on National Law Enforcement Appreciation Day (and any other day of the year):
Say "Thank You" and Express Gratitude.
The easiest thing to do that takes very little time or energy. If you see a law enforcement officer say "thank you"! Express gratitude for their service and sacrifice. It seems small but those simple words have a huge impact!
Buy Their Meal or Coffee.
If you happen to see a police officer at a restaurant or coffee shop, thank them by paying for their meal or drink. It is a small way to show you care.
Celebrate Them By Offering a Meal, Small Gift or Special Gathering.
One reminder: Law enforcement are very careful taking food from people. They usually accept food from local restaurants or from people they know. This is for their safety.
I know so many businesses, departments and families that love to host meals for law enforcement and make the day a true occasion or offer a nice gathering.
We love to do that in our home, too, so I wanted to share our favorite place to find police-related decorations and party supplies.
Oriental Trading is an online party supply superstore that has a line of police-themed party decor, supplies, and costumes.
We put together this entire table with supplies from Oriental Trading. They have police themed table cloths, plates, napkins, cups and more!
And check out these super cute police car favor/treat boxes. They are roomy enough to put candies, cookies or treats in and are easy to assemble.
Another favorite is this police car cupcake stand. It is super sturdy and a great way to display a sweet treat.
Another great addition to the table is this police themed confetti. And if you have kids, they have badge name tag stickers, tattoos, and light of badge stickers!
We have been so impressed with the police party supplies that Oriental Trading provides to support and celebrate law enforcement. They have the largest selection I've found and everything is high quality.
Plus, their party supplies are great for any occasion- police graduations, retirement parties, birthday parties, appreciation days and more!
YOU CAN CHECK OUT ORIENTAL TRADING'S POLICE PARTY SUPPLIES HERE.
Have Children Write Letters or Draw Pictures in Support of Law Enforcement.
This is such an easy way to get children involved and offer appreciation on National Law Enforcement Appreciation Day that is free. You can download my free pack of children's images for law enforcement below.
I hope this list gives you a great starting point for some ways to recognize and support law enforcement on National Law Enforcement Appreciation Day or throughout the year.
FREE Police Wife Guide- Top 10 Ways to Rock Police Wife Life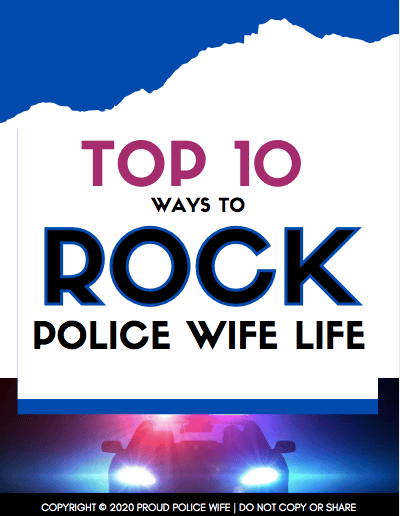 Learn to rock police wife life with these 10 easy tips! Join over 20,000 fellow police wives who are learning to rock it and feel supported with our help each week! Once a week I will provide you with even more ways to feel encouraged and supported for your law enforcement wife journey with my newsletter.
Read my PRIVACY POLICY here.