This episode is brought to you by The Taya and Chris Kyle Foundation | Service Family Strong. Through their tested curriculum, programs and support they help first responder couples and marriages.
We hear a lot of talk lately about police officers leaving law enforcement or retiring early and moving on to another career. And can we really blame them?
With society dehumanizing law enforcement, it makes their job even harder than it already is. So whether you (or your spouse) are ready to turn in the badge or you are just exploring your options, today's episode will give you some insight on what a job outside of law enforcement can look like for you.
In this episode we are joined by Nicole Davison. Nicole Davison is the Host of the Podcast, Unpacking Perspectives and Founder of NMD Career Consulting, LLC, a private career counseling and consulting practice. Nicole is a Board-Certified Career Coach and Counselor, a Mom, a has been a proud Law Enforcement Wife for over 17 years. She has over 25 years of industry experience and brings so much knowledge regarding career exploration and transition.
My Spouse May Leave Law Enforcement. What Job Can He/She Do?
Job Options for Police Officers
While future career paths are very individualized, two common things tend to happen.
First is, many police officers decide to stay in the industry and look for another career option related to policing. They may move to another department, move into cyber security, do public safety for colleges or find a less dangerous job related to law enforcement.
There is a huge need for people who are analytical for jobs like fraud analysis where they can use their experience from policing. Many corporations and businesses desire police officers due to their level of expertise.
The second option is that many police officers decide to stay away from the job in general and find a completely new career path. They may move towards entrepreneurship, start a new career altogether or take up a job related to a hobby or passion of theirs.
Most importantly though, Nicole recommends that you think about what goals you and your family have. What are your priorities? What are you passionate about? Answering those questions will help drive what options you are willing to explore.
Transferable Skills That Many Police Officers Possess
As mentioned earlier, the desire to hire police officers is great. They are known to have a high level of integrity and specialized skillset that many others do not have.
Some of these skills are:
Communication Skills
Problem Solving
Interpersonal Skills
Leadership and Management Skills
Patience
Conflict Resolution
Critical Thinking
Writing
Active Listening
Managing Confidential Information
and many more!!
Career Relocation and Resumes
Many police officers have been in the field for years and they may have started when they were young. So writing a resume may not be something they have experience in.
If you are considering career transition or exploration, Nicole can help you build a suitable resume for your next career goals.
Career relocation is another possibility for police officers. So networking in the desired area is really important, as well. In addition, using sites liked LinkedIn can be helpful is learning more about a potential relocation area.
Career Exploration for Police Spouses
If you are a spouse and you are looking to find a job (or even a job that meshes well with the law enforcement lifestyle) then Nicole can also help you with career exploration.
To get in touch with Nicole for more information about leaving law enforcement or to schedule a free consultation for her services, you can reach out to her on Instagram, send her an email or on her website.
Like this episode? Be sure to subscribe to the Proud Police Wife Podcast and leave a review.
Want to stay in touch? Be sure to follow me on Instagram to watch my funny and encouraging reels and check out my IG stories for more behind the scenes.
FREE Police Wife Guide- Top 10 Ways to Rock Police Wife Life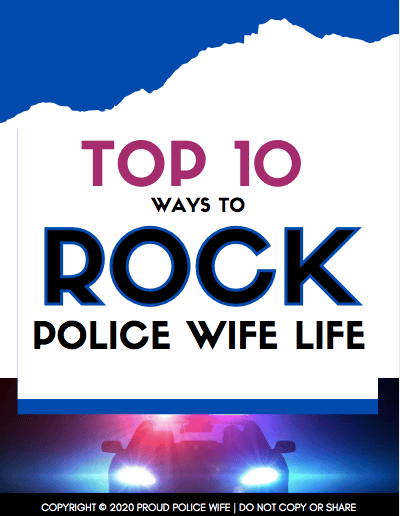 Learn to rock police wife life with these 10 easy tips! Join over 20,000 fellow police wives who are learning to rock it and feel supported with our help each week! Once a week I will provide you with even more ways to feel encouraged and supported for your law enforcement wife journey with my newsletter.
Read my PRIVACY POLICY here.