Have you ever had your officer husband tell you to sit a certain way in a restaurant? He wants to face the door and you sit with your back to the door. What about a strategic plan to separate if you are in a store or public place? If you have been a police wife for any length of time, then I am sure you can relate. While those requests may seem odd or crazy to non-law enforcement families, we understand. Our officers are trained to protect. That protection does not only happen while on shift; it carries straight into their home lives and they have a need to protect the ones they love, as well.
For years, my husband has "prepped" me on situations where we may have to separate one another, like if he sees someone he has arrested and does not want to make contact with them. Or maybe he just does not want people he has arrested to see what his family looks like and who we are. I have learned over the years to put total trust in what my husband is saying and requesting us to do.
Put Faith in your Officer
It is ingrained in our officers to protect in and out of the line of duty. They are following a calling that surrounds every aspect of their life. On most days, they are dealing with, let's just say, an unsavory crowd. A type of crowd that your officer does not want exposed to you and your family.
Let your officer follow his instincts here. Let him dictate how you sit at a table or booth in public. Listen to where the exits are in Target or a large mall. Plan together for emergencies that may be out of your control. Listen to it 1, 5, 25, 100 times. Yes, over and over again, the conversation will probably come up. Just listen and take mental note.
Put your feelings aside here and let your officer take control. Put your faith in their training and know-how. Trust that what they are saying and doing make sense to them. Let me tell you why.

JOIN THE CHALLENGE TODAY!
Join the hundreds of other police wives (& their officers) who have grown closer to their spouse!
Why it Matters
After years of "prep" from my husband, the day finally came where I had to use what he taught me. A tad bit scary, but because I TRUSTED everything he ever said I knew it would be fine. We were at a restaurant with our children. I had taken the kids to the bathroom and he stayed at the table. When he came out, he was gone. I knew he would not put us in danger being there alone, so I remained calm. I knew to quietly get the kids out of the restaurant and then make contact with my husband. He was texting me the whole time and letting me know what was going on. After the fact, he tells me it was someone he had arrested. He knew they were not dangerous, but he did not want that person to know who his family was.
Now, you and your officer may have a different plan if something like that happens to your family, and that is fine. The point here is: we had a plan. I knew to stay calm in the midst of it all because he had coached me over time (& my children were watching me). Once the situation was over, I was a bit shaken, I am not going to lie. But, I was SO THANKFUL that I put total faith in my husband. I was THANKFUL that I listened to him all those years.
So while, at times, thinking and talking about these scenarios can create worry, I assure you, it is worth it. I honestly believe it is just another aspect that is part of the law enforcement lifestyle. While it is easier said than done, please try to put your worry and fear aside. Be level-headed and above all, learn to trust your officer.
If you need support navigating police wife life, then be sure to join our exclusive Facebook group!
FREE Police Wife Guide- Top 10 Ways to Rock Police Wife Life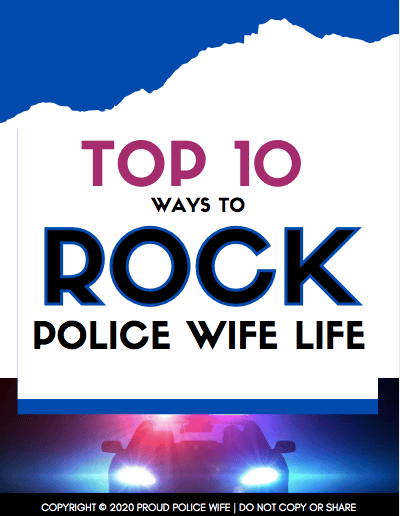 Learn to rock police wife life with these 10 easy tips! Join over 20,000 fellow police wives who are learning to rock it and feel supported with our help each week! Once a week I will provide you with even more ways to feel encouraged and supported for your law enforcement wife journey with my newsletter.
Read my PRIVACY POLICY here.