This is a topic I really debated writing about because honestly, I like to keep what I write positive for the law enforcement community. But censorship is happening to the law enforcement community and at a more frequent rate so here we are. I've had enough of it and so has the law enforcement community.
If you are on social media accounts regularly like Facebook, Instagram, Pinterest and even YouTube and you are a law enforcement family then you may have noticed an uptick in censorship on these platforms, too. This may be on your own account or on accounts you follow.
While many can and should be able to voice their opinions, for some reason, law enforcement pages, platforms, and supporters are getting blocked, shadowed-banned or their posts are being restricted. Posts that are not divisive or derogatory in any way shape or form are being marked as going "against community standards" simply because they come from a law enforcement page or platform.
Yet, thousands of accounts that scream anti-police rhetoric and actually talk about inflicting harm on law enforcement officers are leaving comments on many of our posts and making hateful posts with no problem at all. We report them, but they somehow do not go against these same community standards.
Ironic, isn't it?
Back in June 2020 when negativity towards law enforcement was incredibly high, my own business Pinterest account was suspended. I logged in one day to my Pinterest app on my phone and received a message saying my account had been suspended. No further information as to why. I could not see my pins, boards, etc. and I did not break any Pinterest Best Practices.
I repeatedly emailed Pinterest and appealed this suspension. It took about a week but my account reinstated. Somehow it was seen as "spam". If you look at my account, it is FULL of positivity for law enforcement spouses.
I thought okay, maybe this was just a bot and not a big deal. But time and time again over the past several months, we are seeing law enforcement platforms or supporters of police come forward saying the same instances are happening to them.
Here is another example from 911Strong on Instagram regarding police voices being censored.
PragerU is actually taking legal action against YouTube and Google for censoring their videos.
These are not isolated incidents- this is happening every day.
Law enforcement families have seen these skewed views and biases in the media and on the news, but now on private platforms like Twitter, Facebook, and Instagram, to name a few.
While law enforcement platforms and supporters are noticing censorship on a large scale recently, we are not the only ones impacted by it. Online platforms are censoring, placing fact-checkers and restricting content based on political and religious affiliation, too (but it goes well beyond this). Censorship is happening so much across our nation that the President actually put an Executive Order in place in June of 2020.
While I believe some of this is political in nature especially during an election year, censorship is happening all of the time. Many of these platforms even speak of being inclusive of all, yet, they block and delete what doesn't fit their agenda.
What is even more upsetting is the fact that law enforcement families and supporters are receiving threats and nasty messages, but yet, when reported various social media accounts say it "not against community standards." (Want examples of this, too? Because I have a lot of them). Instead, showing support for law enforcement does somehow violate those standards?!
While most of my posts come with a solution to a problem we may be facing in police wife life, the only solution I have here is to keep using your voice.
We all have a voice and we all DESERVE to have a voice. We can all disagree (without violence and promoting hatred, of course) and should be able to voice our opinion without tearing each other apart or being silenced by big corporations.
Do not allow yourself to be silenced.
Today I am using my voice because I am tired of being silenced and seeing others in my community be silenced, too.
FREE Police Wife Guide- Top 10 Ways to Rock Police Wife Life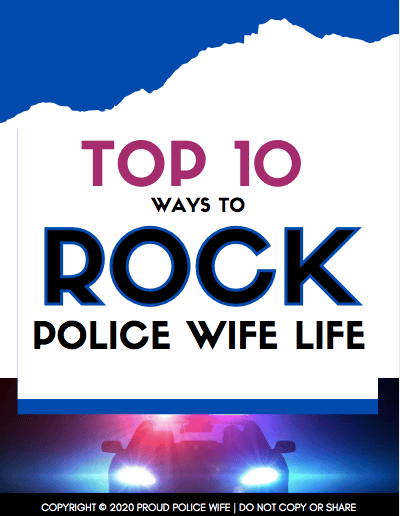 Learn to rock police wife life with these 10 easy tips! Join over 20,000 fellow police wives who are learning to rock it and feel supported with our help each week! Once a week I will provide you with even more ways to feel encouraged and supported for your law enforcement wife journey with my newsletter.
Read my PRIVACY POLICY here.