This post is sponsored by Arrest My Vest. All opinions are honest and my own.
Valentine's Day or Galentine's Day? Truly, you could celebrate both as a spouse or girlfriend of a police officer.
If you don't really celebrate Valentine's Day then this post may not be for you; however, if you do celebrate AT SOME POINT, then this post should give you some gift ideas as a police couple.
I say "at some point" because with our spouse's schedules, you could celebrate the week before, the day before or day after, or the weekend after, depending on when your spouse is off. The bonus to that is: restaurants aren't that busy and you don't have to deal with crowds or reservations.
Then that leaves the actual Valentine's Day. If your spouse is working then you could celebrate or hang out with a girlfriend, making it Galentine's Day (who is single or also has a spouse working) and still celebrate with your officer when time allows.
Both are a WIN-WIN situation!!
If you are like me, then Valentine's Day is sorta this foggy, after Christmas holiday, that surprisingly comes along, and you plan things last minute. So if you are also like me, then a last-minute guide is perfect!
So let's get started.
Last-minute Valentine gift ideas for police couples:
Nothing says "I love you" like smelling good. LOL! Think of it like cologne or perfume while your spouse is on the job.
Arrest My Vest spray is our go-to odor eliminating spray for vests, tactical gear, boots, and honestly, anything that smells. We use it in my van, my kid's stinky boots, the dog bed, literally on anything!
It's also nontoxic and all natural making it safe for you, pets and children.
Check out Arrest My Vest here! We keep the large sprays in our laundry room but also have the mini spray bottles in our car and my husband's gym/gear bag.
A surprise date night out
I love this idea! Set a date on your calendar with your spouse, knowing that you will go out to celebrate (could be on Valentine's Day, could be another day). Then each of you should plan a part of your date. Maybe one of you picks the dinner location (or lunch or breakfast, because, well, shift work) and the other person picks a fun activity. Either way, each part of your night should be a surprise for one of you.
Date night at home or date in a box (to do at home)
Plan to just get take out at home, snuggle up a watch a Netflix movie, turn those phones off and enjoy the company of one another. Or put together a little Valentine's Day box- a make your own date in a box. You could put a menu to a restaurant, popcorn, a movie guide, wine glasses- anything fun you want to do that evening. This is your time to get creative!
Tickets
I love this idea because you can literally come up with the idea the day of. Tickets to a game, concert, show, you name it- this can always be last minute.
Gift certificate
Granted some people don't like gift certificates, but I love a good massage or salon gift card. It is truly what I want and not something I always spend on myself so it is like my husband's way of forcing me to go, which I love!
But a gift certificate to the range, a date to Dave & Buster's so you can go together or a gift card for wellness (massage, etc) is a fabulous, last-minute idea!
Make your own beer 6-pack/wine and chocolate (or a favorite treat)
Almost every grocery store now has a small craft beer section where you can build your own beer 6-pack. Pair that with a sweet treat and you have a nice little gift. Don't like beer? Grab a bottle of wine or a few mini bottles.
Amazon even has this really neat looking beer caddy with a built-in bottle opener.
Hot/Cold Tumbler or Mugs
I teamed up with a police-owned shop to create these engraved tumblers, mugs and wine cups. They keep drinks hot/cold for HOURS and many come with a lid.
Looking for some subtle thin blue line pieces to add to your jewelry collection? Then be sure to check out Blue Monarch Co which is owned by a retired female police officer.
Right now, Blue Monarch has two Valentine's Day deals for you (or for you to show your spouse).
You can get one piece of jewelry for 40% off with code: HEART40
OR
If you purchase from the Heart Collection (full of blue line pieces), you get Buy One Get One Free with code: BOGOHEART
Black Rifle Coffee
They have both K-Cups and ground coffee that is delicious! Plus, Amazon is your friend and ships fast!
Fun themed coffee mugs + pair it with a sweet treat or delicious coffee
I love these funny police-themed mugs.
Or this cute wife mug:
Homemade treats or trail mix
You can't go wrong with some homemade goodies. Try these recipes from the blog:
Books or journals to do/read together- this is the gift that lasts much longer than Valentine's Day
Bulletproof Marriage by Adam Davis is a great marriage devotional to do as a couple.
If you like to journal, then The Peacemaker's Wife is perfect for police wives and girlfriends.
Or my newest devotional, Proud Police Wife: 90 Devotions for Women behind the Badge.
Heart-shaped food
Whether it is heart-shaped eggs or heart-shaped doughnuts, there seems to be a pan for every food imaginable so you can turn it into a heart.
Isn't this the cutest?
This blanket has great reviews on Amazon and if you have Prime, the shipping can't be beat!
Well, that's a wrap! I hope you found the perfect gift idea for Valentine's Day. And please remember, it does not matter when you celebrate- just as long as you get to be with the one you love.
FREE Police Wife Guide- Top 10 Ways to Rock Police Wife Life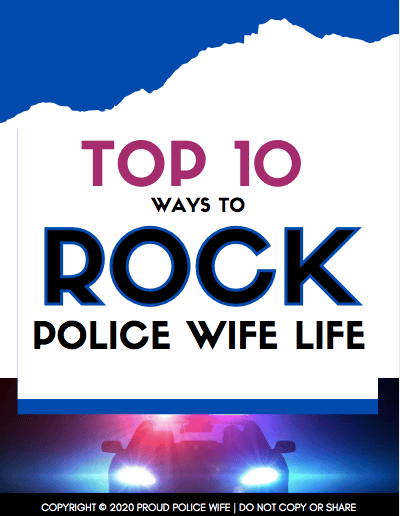 Learn to rock police wife life with these 10 easy tips! Join over 20,000 fellow police wives who are learning to rock it and feel supported with our help each week! Once a week I will provide you with even more ways to feel encouraged and supported for your law enforcement wife journey with my newsletter.
Read my PRIVACY POLICY here.