Last minute shopper? No problem.
Is Christmas is RIGHT around the corner? We've got you covered.
Or maybe it's your officer's birthday- here are great gifts you can snag off Amazon. All law enforcement related, of course, from cold wear gear to home safety.
I tried to hit a variety of price points so you have plenty to choose from.
Amazon is not always 2-day shipping anymore (but most items are if you have Prime), so you should give yourself a few days more than that to ensure proper delivery time. 
So here we go!
Last minute gifts ideas for law enforcement off Amazon:
Hot Logic mini- perfect for warming food on duty. Honestly, you can NOT go wrong with this gift!
Arrest My Vest spray- every officer's go-to spray for uniforms, bulletproof vests and tactical gear.

Condor Tactical Fleece (beanie) Cap- VERY popular for keeping warm.
First Lite Hoody- perfect for temperature regulation
Hand and Foot Warmers
Under Armour Cold Weather Crew Shirt
QuiqLite- clip on LED light.
Seat cutter/window breaker.
Seat/Car Organizer. This is perfect for your officer's patrol car. It has a non-slip bottom and looks very deep for extra storage.
Dash Cam. This is for personal vehicles because you can never be more prepared.
Ring Video Doorbell. This is the least expensive model. They do offer higher models with more bells and whistles.
Sound Machine by Marpac. Great for blocking out noise when your officer needs to sleep.
Blackout curtains. This brand has the BEST reviews on Amazon I could find. They have many color and style options, too.
Field memo notebooks. Great stocking stuffer or small gift idea like for gift bags!
Blink Home Security System.
Police Bottle Opener. 
50 cal Bullet Bottle Opener.
50 cal Shot Glass.
What are some of your go-to gift ideas? Let us know so we can add them to this list. 
FREE Police Wife Guide- Top 10 Ways to Rock Police Wife Life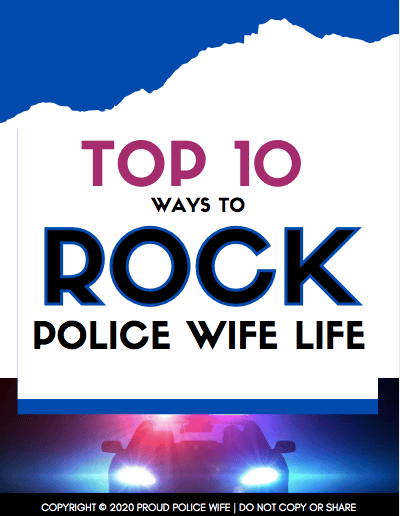 Learn to rock police wife life with these 10 easy tips! Join over 20,000 fellow police wives who are learning to rock it and feel supported with our help each week! Once a week I will provide you with even more ways to feel encouraged and supported for your law enforcement wife journey with my newsletter.
Read my PRIVACY POLICY here.