I received free tickets to Kings Dominion in exchange for this post. All work is honest and my own.
Growing up I always had fond memories of going to Kings Dominion and riding roller coasters until the park closed. My husband and I even went on dates there as teenagers YEARS and YEARS ago. It seems kinda crazy that we are now taking our three children there for the same memories we had years ago.
This week we loaded the family in the car and got to the Kings Dominion as soon as it opened and left right before it closed. The kids didn't want to leave and we all had an absolute blast!
We spent most of the day in Planet Snoopy because our kids are young and they have a ton of rides for the little ones in close proximity. But our oldest daughter LOVED Woodstock Express, which is a really fun and slightly thrill-seeking roller coaster in Planet Snoopy.
But they also have an amazing new ride called the Intimidator. If you love roller coasters then this one is for you!
Grab the All-in-One Police Wife Reference Guide
Grab this handy reference guide for all things police wife! From important dates & events to resources for law enforcement- all in one place! Subscribing also gets you access to my weekly newsletter full of tips and encouragement.
Read my PRIVACY POLICY here.
The second half of the day we were in Soak City which is the waterpark in Kings Dominion. It has loads of water slides, a lazy river, water playgrounds and a wave pool which my kids could not get enough of.
Obviously, the rides are amazing, but what also deserves a mention is the food at Kings Dominion. They have definitely stepped up their food game and now offer Chick-Fil-A, Panda Express, Subway, Cinnabon, Starbucks, Rita's and other delicious eats like Chicken 'N Waffles. You won't go hungry, that's for sure! Of course I had to grab some Rita's before we left Soak City. 🙂
I want you to have an amazing time at Kings Dominion, too.
And you can because Kings Dominion in Doswell, Virginia is giving back to ALL public safety personnel by providing FREE admission from June 3rd-June 9th, 2019. This includes: police, fire, EMTs, dispatchers and MORE.
You can get all the details in this post or go straight to the Kings Dominion website to purchase family tickets now (the public safety officer will be free with valid ID at the gate).
Thank you to Kings Dominion for supporting all public safety officers and their families. We appreciate you!
FREE Police Wife Guide- Top 10 Ways to Rock Police Wife Life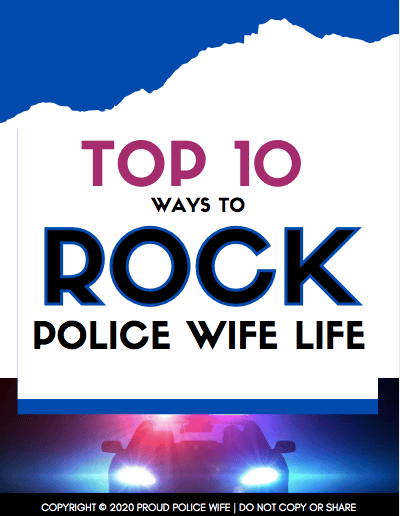 Learn to rock police wife life with these 10 easy tips! Join over 20,000 fellow police wives who are learning to rock it and feel supported with our help each week! Once a week I will provide you with even more ways to feel encouraged and supported for your law enforcement wife journey with my newsletter.
Read my PRIVACY POLICY here.