It is no secret that our officer's schedules can be rather crazy. They work long shift hours, sometimes several days in a row. We go days without seeing them and sometimes their only hours off are during the night when we are sleeping. Days off are not always protected and often result in being called out, having training or range days, making it hard to find time to see one another.
Planning for events and gatherings become difficult, sometimes impossible. We plan as best as we can (as a family) and hope that our officers are able to join in. It can be frustrating, lonely, and very difficult to find quality time together.
Planning time together as husband and wife becomes even HARDER. When we have commitments, children, immediate family to see, we try to fit it all in but sometimes we have to say "no" just to make time for ourselves, right? This is when learning to protect your time, as a couple, becomes essential.
How to Protect Your Time
At some point in our law enforcement life, I realized I had to be more intentional about the plans I was making. While family time with our children always comes first, my officer and I make it a point to carve out some time just for us, too. It takes a little mastermind planning on our parts, but it works!
We don't always succeed at having these wonderful, long "date days", but we don't actually care. Honestly, those are few and far between these days with 3 children. All we care about is being together and making the best of the situation.
If we are planning a date out of the house, without kids, yes, we have to plan that well in advance. We have to hire a sitter or ask one of our parents to watch our kiddos and get it scheduled on the calendar. I do keep in the back of my mind, that these plans have the potential to change, but always hope they won't.
The best way to keep time with your officer sacred, is pencil in times of the day that you know you are both usually available. Look at your calendars together and pick a time each week (or more) to spend quality time together. Maybe Sunday is the beginning of your week. Then sit down on a Sunday, look at your schedule, and make a commitment to keep your time protected. Write down this time and stick to it as best as you can! Don't plan any other events or push it to the side. It is vital that you have time together with your officer for a strong relationship.
I always pull out my favorite Erin Condren planner that is personalized to fit our family. It gives me options to look at each month, each week, or day by day to stay organized. I have plenty of space in each calendar area to pencil in those special times with my officer. If you use my link to purchase your own Erin Condren planner, then you can receive $10 off your first purchase!
It is best to schedule time on an "off day"- it has less chance of being canceled, but not always, as we learn with this line of work. We also like to pick times BEFORE my husband heads into work. My husband is not usually called in early, so this time is also more protected. A quick 15 minutes to catch up and talk (without feeling rushed by children who are excited to talk to daddy) is always a blessing. We try to fit this in when the kids are napping or in school.
Our time together may be little chunks of time, but if they are uninterrupted and protected, then I call that a success.
Some weeks we get an hour or two together and other weeks we get an entire evening or afternoon. It always varies due to our schedules but we try to remain flexible.
Ways to Spend Your Time
As long as you are with your officer, then it does not matter how you spend your time, right?
The possibilities are endless, really.
Here are some of my favorite ways to spend time with my officer:
-Date night-in: Order take out or grab food from a local food truck after the kids go to bed. We eat together, without feeling rushed. Wine or beer make it even better. 🙂
-Movie night: At home or in the theatre. We usually opt for a movie at home or catch up on our favorite Netflix shows.
-Talking: I know, silly, right? We honestly don't get much time to talk throughout the week. Sometimes we just need to get caught up with one another and have an adult conversation without being interrupted by our kiddos. This is great for when we only have small chunks of time to see one another.
-Plan a night on the town: For us, this is more like, get a sitter, eat at a brewery, and walk around the local downtown area where we live. Either way, we enjoy it!
What are your favorite ways to spend quality with your officer? Tell us- we would love to know!
Remember, it takes time and energy to work on any relationship. Obstacles like shift changes, opposite schedules and stressful careers test relationships and require extra attention. Carving out time to be with your spouse and working hard to protect that time will only keep your marital connection strong. It is also important to remember, as frustrating as it may be, little amounts of time are better than none. Keep those calendars handy and make your time together intentional- you won't regret it! If you are looking for more ways to stay connected to your officer- keep reading!
FREE Police Wife Guide- Top 10 Ways to Rock Police Wife Life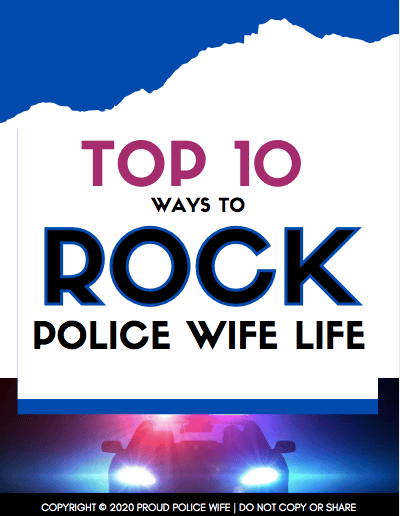 Learn to rock police wife life with these 10 easy tips! Join over 20,000 fellow police wives who are learning to rock it and feel supported with our help each week! Once a week I will provide you with even more ways to feel encouraged and supported for your law enforcement wife journey with my newsletter.
Read my PRIVACY POLICY here.