Our cute little guy just had his 2nd birthday and we could not wait to throw him a police themed birthday party! He loves being just like daddy and carries around his little K9 pup all the time so we knew this was the perfect theme for him!
But with three kids, a blog, and an officer that works an unpredictable schedule, I knew I needed to make the planning of this party pretty easy. I LOVE Pinterest, but all of those crazy over-the-top parties were not what I could accomplish. So I want to show you how EASY it is to plan a police themed party, on a budget! You can make it look good, have fun, all while not pulling your hair out!
Invitations
I started by making my own police themed invitations in PicMonkey (you could also use the FREE version of Canva) and printed them on cardstock at home. I sent them out to our family and friends about a month before the party.
Decorations & Food
I covered each of our tables with Plastic Rectangular White Table Cloths.  Then I taped yellow caution tape on either side of each white table cloth. The table cloths were placed on the two tables where we served food and the children ate. You can see the table cloth with caution tape in the donut picture below.
I also had my husband put yellow caution tape around the outside of our front porch and mailbox.
I kept the food really simple. The adult's had hamburgers, hot dogs, and chips.
But the kid's food was police themed, fun, and my favorite part!
I'll start with dessert because who doesn't love dessert?
We had a "Donut Bar" with a variety of donuts from our local donut shoppe. I made the donut toppers and you can grab those for FREE later in this post. I printed them on cardstock, cut them, then taped toothpicks to the back before sticking them in the donuts. They were a hit!
We also had a variety of police themed cookies. This is another area I took some help in. My dear friend has a bakery and made these specifically for our party! There were badges with the number 2, police cars, handcuffs, and donuts. The kids gobbled them up!
Food for the kids:
The kids ate super fun, police themed foods.
These "traffic jams" were my favorite. Just peanut butter and jelly cut out using car and truck cookie cutters.
Who doesn't love pigs in a blanket? (My husband didn't mind the joke 🙂 )
Any kids favorite snack food- Pirate's Booty Popcorn. We called it "Cop corn".
We also had out some apple sauce pouches and juice boxes for the kids.
As you can see in each food picture, I labeled each food item with my printable food labels.
Remember, you can grab these super cute food labels and cake/donut toppers for FREE! Just sign up below and they will be delivered straight to your email inbox for download.
FREE Police Wife Guide- Top 10 Ways to Rock Police Wife Life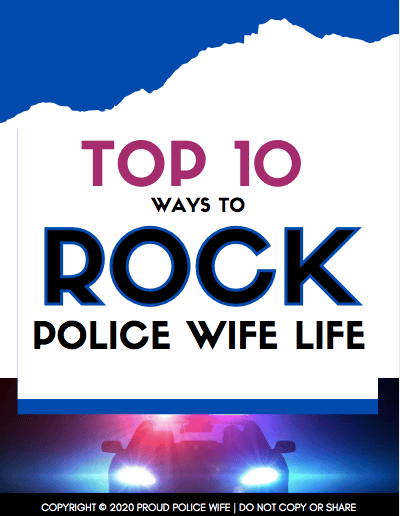 Learn to rock police wife life with these 10 easy tips! Join over 20,000 fellow police wives who are learning to rock it and feel supported with our help each week! Once a week I will provide you with even more ways to feel encouraged and supported for your law enforcement wife journey with my newsletter.
Read my PRIVACY POLICY here.