Thank you to Thin Blue Line USA for sponsoring this post. All opinions and work are my own.
Showing appreciation toward law enforcement is needed now more than ever. And taking the time to thank a police officer doesn't have to be big or grand, a simple thank you goes a long way. Obviously, I show a ton of love and admiration to my husband in law enforcement all of the time, but there are certain times of the year that I want to extend my gratitude for other officer's, as well.
Our officer's need constant, daily reminders that we support them. We need to flood them with praise, appreciation, and respect to outweigh the negativity they experience all too often.
I never let my hero go to work without letting him know how appreciative I am of him, but I also enjoy "paying it forward" to officer's in our community. I even show appreciation on the larger scale during times like Law Enforcement Appreciation Day (L.E.A.D.) on January 9th and National Thank an Officer Day in September (this year it is on September 16th, 2023). But we don't have to wait for a special time to say thank you, we can do it all year long with these easy ways I suggest below.
So whether you are looking for ideas to show support to the special officer in your life or to a local department, we have you covered with a ton of ideas!
If you are showing support to your husband or wife that is an officer, then grab the Printable Love Notes from our Shop.
They are super cute, police themed, and an easy way to say thank you even if you won't see your officer that day. Just fill out a note and leave it where he/she can see it and show your appreciation.
Make police appreciation bags.
I grab blue bags and fill them with non-melting candy, pens, hand sanitizer and more! Get the full list of items and a free printable for making the bags in this post. This is a great way to say thank you to a local department. If you shop at places like the dollar store then they can be made inexpensively, too.
Pay it Forward!
Pay for an officer's meal, drink, donut, or gas station snack any opportunity you get! This is a quick, easy way to make an officer's day.
Deliver fresh donuts, pizza, or any type of treat to a local department.
I will say: my husband won't eat food from a stranger. If you are the spouse or relative of an officer then this is a good option. If you don't know someone at the department, then going with another option may be better. 🙂 (This one may be harder this year but a good idea for just your spouse).
Paint rocks and leave them around your local department!
My kids and I do this every year. We love to paint happy or police themed rocks and place them in places we think they will be seen.
We usually grab this rock painting kit:
Just say "thank you"!
This one is NOT hard, right? If you see an officer, show your appreciation with kindness by saying "thanks". Remember, they are away from loved ones, missing holidays, events, milestones just to work long, dangerous hours for our communities. Believe it or not, police are NOT thanked nearly enough. Let's change that and start making this gesture a part of your routine.
I LOVE purchasing a from a police supportive shop like Thin Blue Line USA. They carry practically everything and a portion of their sales go right back into supporting law enforcement agencies and organizations every single year! Feel free to use code: PROUD15 for 15% off your order at Thin Blue Line USA.
Pass out a special thank you card!
Use this FREE printable and download it to pass out to any officer! I recommend printing on card stock. Click to download the Printable Police Thank-You Cards.
Get your kids involved.
Nothing puts a smile on someone's face like handing them a cute, hand-drawn card, note or picture from a child. Talk to your children about the heroic job law enforcement do daily and allow them to show their gratitude.
Start a facebook or instagram share!
Make a graphic, share a picture or write a post expressing your thanks for your communities law enforcement. Tag a local department, if you want to be sure they see it!
Honestly, no matter how you decide to thank a police officer, any officer is going to appreciate you! Your recognition of how hard their job is each and every day, is what matters most!
Thank you for supporting our heroes!
Take pictures of how you thank a police officer and DM us on Instagram! We would love to spread the love!
FREE Police Wife Guide- Top 10 Ways to Rock Police Wife Life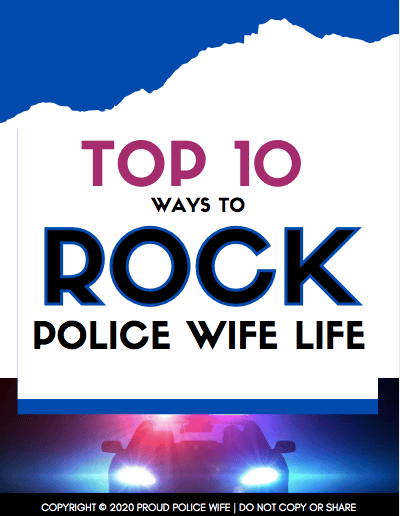 Learn to rock police wife life with these 10 easy tips! Join over 20,000 fellow police wives who are learning to rock it and feel supported with our help each week! Once a week I will provide you with even more ways to feel encouraged and supported for your law enforcement wife journey with my newsletter.
Read my PRIVACY POLICY here.