Every year I feel like I am having the same conversation(s) with my kids regarding the holidays as a law enforcement family and their daddy's job. The first few years were the easiest, actually, because they were so little so they didn't notice any differences.
But as they grow and see that our family celebrates at different times than people they know or at different times of the day, I get asked questions.
We use this time as a family to help our children understand flexibility, patience and that the holidays mean making the most of our time with the people we love.
As a parent of three children and a former educator, here is my advice.
How to talk to your children about why our holidays may be a bit different + how to help them:
Explain that the community needs our daddy/mommy.
Talking frequently about what the officer in your life does, how they help the community, care about others and want to keep people safe are all helpful for our children to understand. Reading books that are kid friendly and touch on these topics, as well, also make this discussion easier for your kids to understand.
Here are books I recommend (scroll to the children's books).
How to help: Some other ways that help with this discussion is to allow your children to draw how they are feeling OR have them draw what they want to do with their parent on that holiday (trying not to focus on the when aspect if this is something that upsets them). A schedule or countdown also helps if your child does better knowing when things happen, maybe for the younger child. A countdown until when your family celebrates Christmas allows the child to visually see when things are happening.
Explain that even though they are working, they are still celebrating the holiday with us.
Obviously, it may be at different times, but try your best as a parent to include the officer in your life. Send pictures, use a video app to stay in touch.
How to do this: use an app like Marco Polo or Facetime to say hi and video what you and the kids are doing or let your spouse sing the kids a Christmas carol for fun. What I love about Marco Polo, these things can be done while your officer is not even on duty. He/she can record a quick message or video and you can play them when your child needs it most (maybe when they are sad), because Marco Polo saves videos.
Have the officer is your lives explain how much they love the child and possibly give them a momento that reminds the child of that parent.
Ideas to help with this: We love the Daddy Doll, but maybe a picture, letter/note, drawing, or recording in a book from your officer would be good. This lets the child know that their parent in thinking of them. You can pull these out when your child is missing daddy/mommy, sad or asking questions.
You can also check out this amazing Holidays with a Hero packet that has letters to/from Santa asking for alternate dates for celebrating the holidays (+ so much more).
I think one of the hardest aspects about being a first responder family is answering the million questions our children have and wiping away those tears when they don't understand. While these tips aren't a magic cure, I do hope they help you during the holidays as a law enforcement family.
FREE Police Wife Guide- Top 10 Ways to Rock Police Wife Life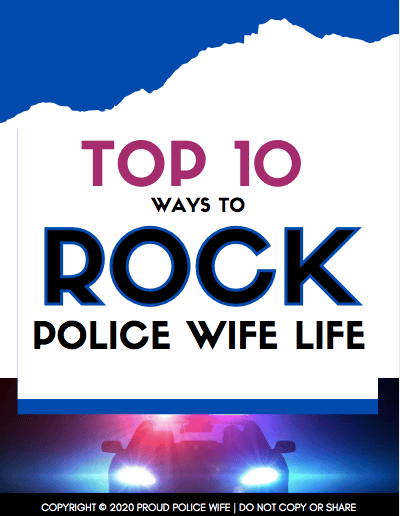 Learn to rock police wife life with these 10 easy tips! Join over 20,000 fellow police wives who are learning to rock it and feel supported with our help each week! Once a week I will provide you with even more ways to feel encouraged and supported for your law enforcement wife journey with my newsletter.
Read my PRIVACY POLICY here.