Sadly, digital privacy for law enforcement officers and their families has become not a want but a need. All over the nation we seeing police officers being harassed, doxxed or targeted. One way that this is happening is by people having access to a law enforcement officer's private information like home address, phone number, and the names of their relatives.
Because of this, the need to break the connection between a police officer's name and their personal information is incredibly high. However, with the high number of people search sites available at anyone's fingertips, removing your personal information off the internet is not only difficult but very time consuming.
Today's guest is Pete James, former law enforcement officer and owner of OfficerPrivacy.com. Pete saw first hand how easy it was for people to target law enforcement officers with the click of a button. So he started Officer Privacy as a way to help police officers not get harassed.
At Officer Privacy, they help to remove your personal information off the top 50 people search sites breaking the connection between your name and private information.
Today Pete is sharing with us ways to take back your digital privacy as a law enforcement officer and family immediately.
Ways Law Enforcement Families Can Protect their Privacy Online:
Vulnerability Assessment:
Pete says the first thing you should consider doing is a vulnerability test. You are going to go online and search for your information just as someone who is going to harass you would.
To do this put your first and last name in quotes. Then type the city you live in, then the word address after it. (do not put your actual address, just the WORD address).
This will help you see results for search sites that expose your home address. They will show your address, relatives, phone numbers, etc.
If you see this type of information after doing a vulnerability assessment and you don't like what you see, then you NEED to do something about it. It is not going to fix itself, unfortunately.
The scary thing about these search sites is people can purchase additional information about you. So even if only your name is listed, they can pay money to gain more information about you. That is how these sites make money.
Some important things to remember:
Officer Privacy can not completely remove you off the internet. No one can. Things like newspaper articles or awards may still list your name online BUT if you take action people are not going to be able to find out MORE information about you. They may see your name, but not your address and relative names.
The ultimate goal is to break the connection between your name and other personal information. No one can make you invisible. Instead they want to make you more difficult to find.
Services that Officer Privacy offers:
If you don't like what you see after doing a vulnerability assessment, then Officer Privacy has two services to help you remove your personal information online.
Premium Service: They Handle Everything For You
For a nominal fee, Officer Privacy does all the work for you. You only provide Officer Privacy with minimal information (no more than what is already on these people search sites) so they can confirm who you are and you sit back and relax. Officer Privacy takes care of the rest!
Free-Do-It-Yourself- Service:
This is a free 14-day trial where Officer Privacy shares his unique removal process with you. It takes about one hour to remove yourself from these sites (about one hour per person in your household).
After the 14-day trial, you pay $9.99/month for continued access.
Personally, my husband and I have used Officer Privacy for years and WE ARE SO THANKFUL for his services. We used the premium service because it was no work for us and we have such great piece of mind.
Like this episode? Be sure to subscribe to the Proud Police Wife Podcast and leave a review.
Want to stay in touch? Be sure to follow me on Instagram to watch my funny and encouraging reels and check out my IG stories for more behind the scenes.
FREE Police Wife Guide- Top 10 Ways to Rock Police Wife Life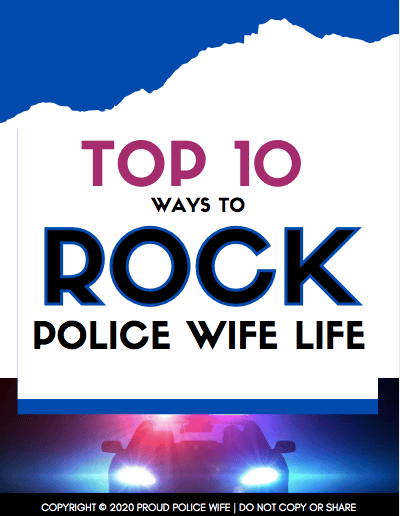 Learn to rock police wife life with these 10 easy tips! Join over 20,000 fellow police wives who are learning to rock it and feel supported with our help each week! Once a week I will provide you with even more ways to feel encouraged and supported for your law enforcement wife journey with my newsletter.
Read my PRIVACY POLICY here.