This episode is brought to you by Blue Monarch Co. Blue Monarch Co. is a retired police owned and operated jewelry company that offers inspirational and subtle thin blue ling pieces. Check out Blue Monarch Co. and use code BLUE20 for 20% off your purchase.
Today Lena Rosenbloom from Badge Wives is joining us to talk about how to not only survive in your law enforcement marriage but how to thrive.
Lena is a fellow police wife of many years, is a mental health professional, and is the President of Badge Wives located in Florida.
So many times old statistics about divorce rates, law enforcement myths or negativity float around and they can realy place doubt, doom, and gloom into the minds of law enforcement spouses (and couples).
But we can promise you one thing: you are not an old statistic and your relationship is not destined to fail.
Here are tips on how to survive and thrive in a law enforcement marriage:
Get Used To Being Independent
Does this mean you have to do everything alone? Not at all. But independence helps you feel more confident that you can thrive in this lifestyle.
You can set yourself up for success by being as prepared as possible and having the mindset that you may have to do some things alone. But if your spouse is able to be with you, that is a bonus!
Alsobe sure to give yourself some reward time. If your spouse is sleeping or working, use that as "you" time to make your favorite food, watch your favorite movie, visit a friend, etc.
You may even be like us and start to enjoy alone time once in a while.
Find Your Tribe
This doesn't always have to be other police wives. Sometimes it is a military wife or other shift work job spouse. Anyone who is supportive and tries to understand what you are going through, can be a person to lean on.
Your tribe does NOT always have to be spouses from the same department as your spouse.
Just as long as you have people in your life who are not going to judge you for celebrating Christmas on a different day or because your schedule is different than theirs.
Be As Educated As Much As Possible About Law Enforcement and What the Job Entails
The more you know about the job, the more resilient you can become.
Take advantage of law enforcement/police wife related conferences. Get information from reputable people, websites, and organizations.
Be careful not to take to heart information from Facebook groups or the rumor mill.
For couples who may be struggling:
Lena says "Don't Give Up". Some seasons, shifts or years are harder than others. It is common for couples to struggle during the police academy, Field Training, or a certain shift that conflicts with what their family dynamic is used to. This does not mean it will never get better.
Remember, it is okay to seek more information, ask for help, reach out to other law enforcement couples for advice, or seek counseling.
About Badge Wives and What They Offer Law Enforcement Families:
Badge Wives of Tampa Bay, Florida is a 501(c)3 nonprofit organization. They are not affiliated with any specific department and they welcome any spouses or law enforcement families in the Tampa Bay area.
Their mission is to promote positive law enforcement relationships within the community, to seek community support for law enforcement, provide support for law enforcement families in need, and to encourage stronger relationships within law enforcement families.
They host socials and get togethers aimed at bringing law enforcement families together for connection, support and friendship.
LEARN MORE ABOUT BADGE WIVES HERE.
YOU CAN ALSO CHECK THEM OUT ON SOCIAL MEDIA WITH THE HANDLE @badgewives
Badge Wives is also hosting an in-person Resiliency Seminar in February 2022. Any spouse or partner, from any location, is welcome to attend. Learn more about their speakers and how to register by going here.
Like this episode? Be sure to subscribe to the Proud Police Wife Podcast and leave a review.
Want to stay in touch? Be sure to follow me on Instagram to watch my funny reels and check out my IG stories for more behind the scenes.
FREE Police Wife Guide- Top 10 Ways to Rock Police Wife Life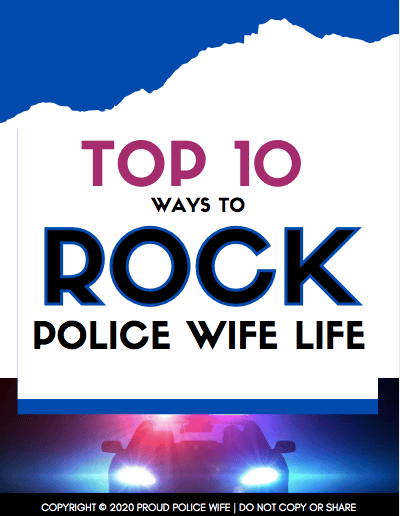 Learn to rock police wife life with these 10 easy tips! Join over 20,000 fellow police wives who are learning to rock it and feel supported with our help each week! Once a week I will provide you with even more ways to feel encouraged and supported for your law enforcement wife journey with my newsletter.
Read my PRIVACY POLICY here.