Any critical incident in the law enforcement community, seems to hit close to home. Even if we don't know those immediately impacted, we feel a connection, in some way, to those hurting. And when someone in the law enforcement community is hurting we want to offer support and help in some way.
If you do know those hurting, it can be a normal tendency to want to "fix" things or reach out right away to offer support. And while support is needed, there are some do's and don't's in regards to WHEN to give support.
Joining us on today's episode is Rachael Flick. Rachael is the host of The Hopecast Podcast which aims to bring hope through resilience, is a trauma expert and educator, and police widow.
Rachael so graciously opens up with us about the loss of her husband, Micah, who died in the line of duty tragically. She shares how he passed and why she tells their story with fellow police families.
Rachael also wants families to have support after any sort of trauma or critical incident in the law enforcement community. She shares her tips with us on what to do and not do when offering support to those experiencing a critical incident.
How to Give Support to Law Enforcement Families After a Critical Incident:
Be patient with reaching out.
Be careful texting, calling, or posting on social media too quickly. Sometimes word travels fast and family may not know of the incident yet. Rachael wants to encourage you to protect any information you may know until you know for certain that family is aware. Allow the people who need to know first, DO know first.
Critical incidents involve very practical legal steps which can be overwhelming for families.
There are liaisons, grief counselors, hospital staff, and many members of the department that will reach out (that you may not even know existed), etc. As a supporter, be sensitive to your desire to help. In the immediate hours and days, families are being connected to so many people and it can become very overwhelming. Support is wonderful but allow time for families to go through these moving parts and necessary steps. You can reach out and let someone know you are there for them, but don't expect a text or call back right away. Rachael said that we often don't know what we need right away, please give them time.
After the initial period, please do reach out.
Yes, it's important to give people time. But after a few days, it is okay to reach out. It is a balance of not reaching out too early and waiting too long.
Don't make light of small gestures.
Recognize that we can't repair what is broken. But things like meal trains, help. Gift cards, flowers, phone calls, all help. How can you help long term? When things die down, that's when they need consistent support.
Rachael said putting that person's important dates in your calendar can be so meaningful. Birthdays, anniversaries, etc. Put those dates in your calendar and don't forget to reach out to them to say "happy birthday" or "happy anniversary".
Take care of the caretakers.
While you may not know the family directly impacted, maybe you know the liaison or peer supporters. How can you support them?
Dispatch is a group of people that continually need resources and support. Think about the dispatch officer who is on the other end of a critical incident. Show them that they are seen and give them support and closure.
The immediate support circle of those who experienced a critical incident also need support. Maybe they need their dog walked or grass mowed. Maybe they need a casserole on their front step. If we are supporting those who support, then we are also helping those who are in their direct care because they are less tired and have the resources they need to continue to support.
Please be careful with your words.
Be careful to not say statements like "this happened for a reason" or "God only gives his hardest battles to his strongest soldiers." No one truly wants to hear those phrases after a loss.
You can have empathy and hold space for them while allowing them to just be. Allow them to be in whatever space they are. You don't have to say or do anything. You can offer a hug, allow them to cry, carry tissues in your pocket; those are all SMALL gestures that make someone feel safe without trying to fix something for them.
How to get in touch with Rachael:
The Hopecast Podcast with Rachael Flick
IF YOU LIKED THIS PODCAST PLEASE BE SURE TO LEAVE A RATING OR REVIEW.
FREE Police Wife Guide- Top 10 Ways to Rock Police Wife Life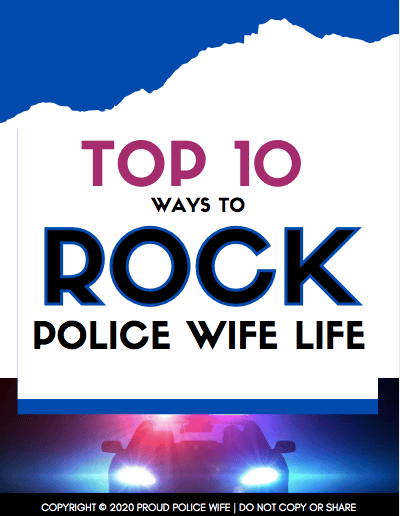 Learn to rock police wife life with these 10 easy tips! Join over 20,000 fellow police wives who are learning to rock it and feel supported with our help each week! Once a week I will provide you with even more ways to feel encouraged and supported for your law enforcement wife journey with my newsletter.
Read my PRIVACY POLICY here.