In all my years as a police wife (13 to be exact), I have never struggled and seen other police spouses struggle as much as we are this year.
We know support for law enforcement exists, but some days all we see or feel are those who are against police. It can feel like everyone hates them when in reality the bad people and horrible events are just drowning out the good.
During such challenging times, I think a few things are important to remember.
First, we have to focus on what we can control. If we are letting the negativity of the world control us and our emotions then we are letting the bad of this world WIN. We can't and won't let them win.
Second, we often hear how strong the bond is for law enforcement families. That's because it is. This is the time for us to band together, give support, spread hope and love. We are stronger together and we should not fight this battle alone.
Here are some tips for staying positive even when it feels like the world is against law enforcement.
How to Stay Positive When It Feels Like the World is Against Police:
Focus on Your Mindset:
This is huge! For me, if my mindset is geared towards sadness, hate and failure, then so be it, that is what my day will be like.
For a lot of us, we have focused on the bad things that have happened during 2020.
Instead of thinking about what 2020 has taken from you, think about what you are STILL blessed to have. Or what has 2020 given you?
Maybe you are blessed to still have jobs during the pandemic. Maybe you are able to stay home with your children to teach them virtually. Maybe you are blessed to have good health. Friends, there is always something to be thankful for no matter how hard your situation is.
Prayer:
Turning to prayer and believing in a higher power is incredibly powerful.
You may be praying for the situation at hand or praying for others, but what about for yourself? It is also okay to ask the Lord for peace for YOU.
And truthfully, this goes deeper than prayer. Clinging to your hope and faith in Jesus Christ is truly what will keep you going. Give Your burdens to Him.
You are meant to walk this life or this journey alone.
Find a Tribe:
Again, you are not meant to go through anything alone. And in the current climate surrounding law enforcement, every police wife or girlfriend is facing the same stress, emotion and struggles as you (or very similar). Why not find those spouses and form a small tribe to lean on one another?
I have been lucky enough to find a lot of spouses on Instagram through my Proud Police Wife page. You can always reach out to me there and I can help you find others in our shoes.
Obviously, you should always be safe (you can read about keeping your privacy as a police spouse here) but don't be afraid to reach out to someone you know is a police spouse and start a conversation.
Focus on the Good:
Instead of mindlessly scrolling Facebook or watching the news that seems to spew negativity these days, try to find the good in all situations.
I promise, if you look hard enough, IT IS THERE. I only share positivity on my pages and many other police wife pages do, as well.
Set Boundaries in Your Life:
Placing boundaries in your life is crucial. I learned how to say no and not feel guilty about it from this book called Boundaries.
Boundaries come in many forms. You may have to set parameters for who you allow in your life or start saying no to helping others before you help yourself. Maybe you also have to learn to say no to yourself by not scrolling social media or engaging in negative commentary online. Whatever it may be: boundaries are healthy!
I think of boundaries as: when I am saying no to someone or something in my life then that makes room for me to say yes to something else. That something yes is what I focus on and how it makes me feel.
If you need more encouragement, check out my journal for police wives and girlfriends on Amazon, The Peacemaker's Wife. It provides you with journal prompts and quotes for navigating police wife life more positively.
FREE Police Wife Guide- Top 10 Ways to Rock Police Wife Life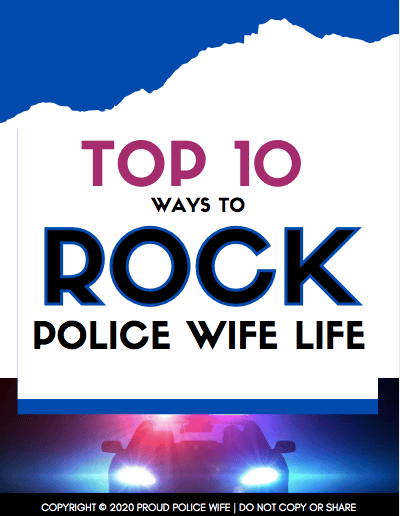 Learn to rock police wife life with these 10 easy tips! Join over 20,000 fellow police wives who are learning to rock it and feel supported with our help each week! Once a week I will provide you with even more ways to feel encouraged and supported for your law enforcement wife journey with my newsletter.
Read my PRIVACY POLICY here.