The phone rings. Your spouse just got the call. The call he was glued to his phone, waiting to hear. He was offered a position with the local law enforcement agency. He starts the academy next month!
First, congrats to your soon to be officer! Second, welcome! Welcome to the law enforcement lifestyle. You are about to be a police wife!
I know you must be feeling SO PROUD right now. I remember that feeling, too. That proud feeling never goes away. Every time you see your officer in that uniform, you will feel proud. Every time they sit in that cruiser, you will feel it, too. That feeling will only grow and grow as time goes on.
I also remember feeling nervous. And often wondering what this was all going to be like. What changes were about to occur? These feelings are ones that you don't have to feel alone in. Know that all police wives feel nervous and have fear. But let's work on trying to minimize those feelings together.
I want to be honest with you. I want to prepare you for the changes that are about to happen in your life as best as I can. I also want to let you know what you can do as a wife entering into the law enforcement lifestyle.
So, here is your "ammo" to prepare you for the police academy as a police wife:
Be encouraging.
While in the academy, your spouse is going to have so much information thrown at him, that it can be overwhelming. All you can do, is be supportive and motivating. Listen to what your spouse is saying and just be present. You, too, may feel overwhelmed and that is completely normal. Take it one day at at time and be positive. Realize now that there will be many times you will want to help your spouse, but being available and supportive is the best way to "help".
Be open to change. 
Realize that law enforcement is a lifestyle for your entire family. It is time to find your new normal. You will have new schedules, even starting in the police academy. Find time with your spouse when you can and try to just go with the flow. Your routines will often change again, as soon as the academy is over, so don't get too comfortable. I am going to let you know now, when your officer expects to be off at a certain time, don't always count on that. They often get held up on a call and ending a shift on time rarely happens. Your officer may also get called in on his days off; again, be open to this. While it is a less than ideal situation, it is one that is simply unavoidable in this career path.
Make connections.
Making connections with other police families (& wives) is extremely helpful. Sometimes it means you have to go out of your comfort zone to meet new people, but I am confident you will be happy with the outcome. Law enforcement families share a very special bond that not many other families can relate to. Even if you meet people that you don't seem to have much in common with, you may be surprised. I have met so many wonderful, supportive people simply because we share the connection of law enforcement. These are people that I may not have met, otherwise, but I feel so blessed to have this special connection with.
While some of what I said may seem blunt, I can assure you, being well-prepared will only benefit you. Many police wives look back and wish they had someone holding their hand or guiding them in those very early stages of police wife life. It is so wonderful to be excited and proud, I still am all of those things, too. But looking back, I was most definitely unprepared for this life. Also remember, it is okay to ask questions for guidance and support.
FREE Police Wife Guide- Top 10 Ways to Rock Police Wife Life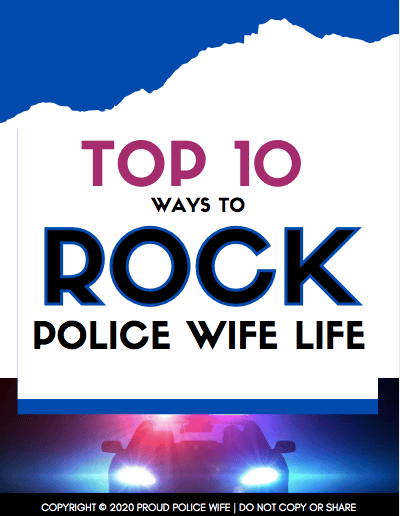 Learn to rock police wife life with these 10 easy tips! Join over 20,000 fellow police wives who are learning to rock it and feel supported with our help each week! Once a week I will provide you with even more ways to feel encouraged and supported for your law enforcement wife journey with my newsletter.
Read my PRIVACY POLICY here.