If you are a police family member and ready to find encouragement for living your best life, then this is the episode for you.
Joining me on the podcast today is Zanna Wolfgang. Zanna is a former police wife, founder of Honor the Brave and she has some new ventures that we are talking about today which share her passion for helping women live their lives purposefully even during hard times.
It's no secret that the past few years have obviously been hard for so many of us but in today's episode we want to encourage people to not stay in that hard season of life. We want to use Zanna's story that she shares with us today to encourage others to seek joy and live a purposeful life.
If you have been a follower of mine for some time, then you may have heard me talk about Zanna before and her company, which she owns with her husband, Honor the Brave.
Honor the Brave is a home buying and selling program for first responder families. And my husband and I used Honor the Brave when buying and selling our homes this past year and had an amazing experience. Learn more about Honor the Brave here.
But before Honor the Brave was born, Zanna shares about her husband's tragic end to law enforcement after he was run over by a gang member in a stolen vehicle. It caused countless health problems, many surgeries and ended his career in law enforcement.
It was an incredibly hard season of life for their family and law enforcement was a calling for her husband so it was a struggle for him to find his new purpose career-wise. But they now look back and know so many blessings came from that hard time and one was in the form of Honor the Brave.
How to Live a Purposeful Life Even During Hard Times
Since Honor the Brave, Zanna and her husband Jeff have decided to live with intention no matter what comes their way. They wanted their life to be about possibility instead of being limited and controlled by outside factors.
So over the past few years, they made changes that they felt gave them more possibility in life and that included buying over 30 acres in Montana and starting a farm.
And with the growth of land and animals, also grew Zanna's love and passion for helping others live purposefully and with intention.
Zanna found this new love with farming and animals and calls it The Funny Farm, so she decided to share this joy with the world in hopes that it brings a smile to people's faces and inspires others to seek things that bring them joy, as well.
She also launched a retail shop that she hopes inspires others called Love & Shenanigans.
If you are Struggling With Finding the Joy Around You
Zanna says whatever you are facing in life, sometimes when we step back we learn our strengths through adversity. It is not always easy but it does help you to see the light at the end of the tunnel.
Sometimes we have to choose to find the good in every day. It will be different for everyone but it requires only us to look at life through a certain lens.
You can start by looking at one thing you are grateful for each day. Allow yourself to see the beauty and good every day. If we see negativity, that is the mindset we will have.
The One Motto Zanna and her Family Live By
Instead of thinking of "if only…." in life, start saying "why not?"
This one saying is one that Zanna and her family live by and allowed them to have so much clarity in life.
If you dream it, want to do it, then "why not"?
If you want inspiration for living a purposeful life or keep in contact with Zanna, The Funny Farm and her retail site Love & Shenanigans, you can find her at:
LOVE AND SHENANIGANS RETAIL STORE
Like this episode? Be sure to subscribe to the Proud Police Wife Podcast and leave a review.
Want to stay in touch? Be sure to follow me on Instagram to watch my funny and encouraging reels and check out my IG stories for more behind the scenes.
FREE Police Wife Guide- Top 10 Ways to Rock Police Wife Life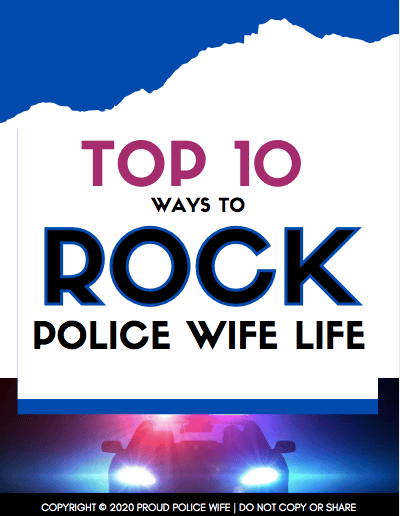 Learn to rock police wife life with these 10 easy tips! Join over 20,000 fellow police wives who are learning to rock it and feel supported with our help each week! Once a week I will provide you with even more ways to feel encouraged and supported for your law enforcement wife journey with my newsletter.
Read my PRIVACY POLICY here.