It's about that time of year when your newsfeed on Facebook is going to be flooded with these "perfect" looking Valentine's Day dates and gifts. Flowers, chocolates, surprise gifts and more. Yet, as first responder couples, we are usually at home, alone, while our officer's are working. Is it not discouraging to read all those lovey-dovey posts knowing you don't get to be with your loved one?
In my early years as a police wife, I would feel down right lonely. Even though I would say Valentine's Day was a Hallmark holiday, in the back of my mind, I always wished I could be celebrating, someway, somehow, with my officer, too. Or I at least wanted us to try to cram in as much as possible into the tiny time frame of minutes we had together. Cue the card left on the kitchen table or flowers that arrived after I went to bed (which I TOTALLY LOVED, it just was not traditional). Those non-traditional gestures can be hard if you are typically a traditional type of person.
In recent years, my husband and I plan a little something the day before or day after Valentine's Day, depending on his schedule. Nothing too fancy because it's not who we are, but something to show we are thinking of one another.
So let's figure out how you and your spouse can work around those shift work schedules and embrace having a non-traditional Valentine's Day.
Turn off social media.
This may be more for you than your officer. Spare yourself the sappy photos and sad feelings if you can help it. If you can't be with your officer on Valentine's Day, then plan to make your day as positive as possible in other ways. Focus on yourself instead or have a fun day celebrating with your little ones, if you have them.
Plan ahead
If celebrating Valentine's Day is important to you and your officer then look at your schedules ahead of time and plan to celebrate another day. Celebrating the days leading up to or after the holiday are perfectly fine. Valentine's Day is just that, a day, what matters is spending time with the one you love, so whenever you can make that happen, do it.
Make plans that work for you as a couple
I firmly believe that we go through seasons in our lives. So work with the season that you are in, not comparing it to the last season or what season you wish it was. Make your Valentine's Day plans based on what works for you both right now. If you have children, then that may mean no fancy date night out. Or maybe you can't find a time to actually go out because of schedule conflicts. That's okay! Ordering Chinese food and sharing a pint of ice cream at home can be just as memorable (& cheaper). My husband and I love spending quality time together at home. After running around all day sometimes the last thing we want to do is go out again- it's exhausting!
We also LOVE ordering a Date Night-In box to have available for when our schedule allows. The date box is sent right to our doorstep and all aspects of the date are planned for us! From the meal, to music, to the activities. I take a peek at the date before hand so I can have the meal ingredients on hand. Then we have the date right in the comfort of our own home with little to no planning involved. They are a BLAST!! So if you could plan to have a Date Night-In box around Valentine's Day, that would be perfect! They always include the latest and greatest products on the market and you definitely get your monies worth!
Celebrate different times of the year
If you really can't make your schedules work then pick different times throughout the year to have time just for yourselves. This is probably the most inexpensive way to do things anyway!
Some fun days to celebrate:
-January 26th: National Spouses Day! (A wonderful day to celebrate you as a couple!)
-February 18th: National Drink Wine Day! (I mean, who wouldn't like to celebrate this??!)
-February 28th: Floral Design Day! (If you enjoy flowers, then this is a great day to give or receive them)
-March 3rd: I want you to be HAPPY Day! (Such a perfect option as a day to be with the one you love. Do something that makes you both happy!)
-March 20th: Proposal Day! (Hint, hint to your officer ;)!
While first responder's schedules are not always ideal, especially for celebrating the holidays, there are ways to work around them. It may just take some planning and flexibility, but you absolutely CAN have a special holiday if you choose to celebrate! Remember, it is about being with the one you love WHENEVER that may be. 20 minutes, one hour, one week later- those are all better than no time at all.
FREE Police Wife Guide- Top 10 Ways to Rock Police Wife Life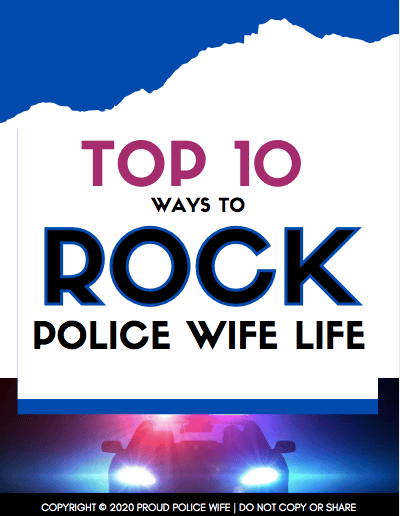 Learn to rock police wife life with these 10 easy tips! Join over 20,000 fellow police wives who are learning to rock it and feel supported with our help each week! Once a week I will provide you with even more ways to feel encouraged and supported for your law enforcement wife journey with my newsletter.
Read my PRIVACY POLICY here.