Night shift, well, any shift for that matter, can leave you feeling a little less protected when your spouse is on duty. But there was something about sleeping alone that always left me with this feeling. This unsafe, unprotected, uneasy feeling- feelings that I knew I needed to get a grip on.
In the beginning of police wife life, I hardly slept and when I did, it wasn't well. I checked my phone constantly (I still keep an eye on it but not obsessively like before) and watched the news for any pertinent information regarding law enforcement (bad idea, very BAD idea). Every little noise had me checking out my window to see what it could be. Those quiet nights had me thinking of ways I could protect myself should the situation arise.
Every night my husband was on duty my mind was racing. Then it dawned on me, I needed a way to feel safe when my husband was on duty. This constant cycle of fear and worry was not healthy and I needed to feel safe in my own home. If thoughts about your husband's job are keeping you up, then read this article about ways to keep your mind off things.
Sound familiar? I actually hope it does not sound familiar, but if it does, then let's go over some tips to kick those worries to the curb.
Tired of struggling with night shift?
You CAN find balance while your officer works night shift! This handy night shift activity list & tracker will help prepare you for any long nights ahead. Join over 2,000 fellow police wives and download your copy today!
Ways to feel safe at home when night shift has you scared:
Get a security system and/or cameras. There are many affordable security systems now-a-days that can help you to feel safe while your spouse in on duty. Knowing that your house is secure (with a sign in your front yard) may be just what you need to sleep well at night. Cameras are also a great idea. We have cameras and I love being able to pull up all angles of my home from an app on my phone. My husband can also do this while working to know that we are safe. You do not have to buy cameras with a security system package. Stores like Costco and BJ's or Sam's have camera packages as low as $250.00 that do the trick! You just install them yourself and have them hooked up to your internet so they can be viewed on an app.
Take self-defense classes. Many local counties and cities offer self-defense classes for reasonable rates. You may also be able to look into your spouse's police department for recommended classes. This is something I have yet to do, but it is definitely on my to-do list for the near future.
Take gun safety classes/purchase a firearm. If you feel comfortable with the idea of using a firearm and if your officer has personal firearms in the home when he is not, then you may want to familiarize yourself with how to use them safely and properly. Keeping up with the range and firearm safety is also a good thing. I recently started doing this because if firearms are in my house, I want to know how to use them in case of an emergency.
Put faith in your husband's training. If being alone is not the issue, then maybe the fear of your husband's job is. If you worry about him at night, then it is time to change that stinkin' thinkin', as my husband would say and find strength in knowing that your husband is trained and trained WELL. He can protect himself (day or night) and I doubt he wants you up all hours of the night questioning that. Pray, write in a journal, do what you can to put those worrisome thoughts aside.
Get a dog. Not like a little one. A big one (if that's your thing) that helps you feel protected unless the pure company of a pet will help take your mind off things. My husband and I purchased a dog 7 years ago when the fear of being alone was too much for me. I wanted a pet that would bark if she heard noises and keep me protected in case of an intruder. She is very loyal and loving, but also very protective of our family.
Install motion detection lights. Motion lights are a great, inexpensive way to protect your home all hours of the night. They do the job for you and help deter any unwanted visitors quickly.
Have all doors & dead bolts locked. This may seem like a no-brainer, but sometimes we all need the reminder. And considering when we bought our house a few years ago it did NOT even have dead bolts on it (shocking, I know), it may be important to point out.
Doing any one of these tips or a combination of them can really help to put your fear in check. I have a comfort level knowing my house, my children & myself are protected when my husband is on duty. I also make it a point to keep the news off and not check social media as much which helps to keep my mind at ease.
Which tip do you want to try to feel protected? Let us know in the comments!
If you want to support of fellow police wives be sure to join our closed group on Facebook.
FREE Police Wife Guide- Top 10 Ways to Rock Police Wife Life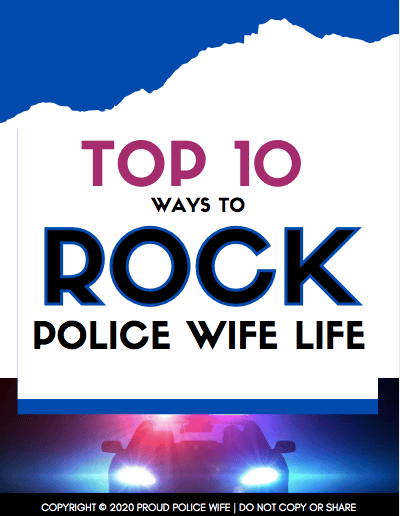 Learn to rock police wife life with these 10 easy tips! Join over 20,000 fellow police wives who are learning to rock it and feel supported with our help each week! Once a week I will provide you with even more ways to feel encouraged and supported for your law enforcement wife journey with my newsletter.
Read my PRIVACY POLICY here.