With shift work and inconsistent schedules it can feel as if creating routines for your family are difficult. But I am here to tell you, that you probably already have routines that you may not be aware of.
And you can absolutely create routines based on what YOU CAN CONTROL. If you focus on what you can control vs what you can't (like your spouse being held over at work or his/her schedule) then you set yourself up for success.
Helpful Tips for Establishing Routines as a Law Enforcement Family:
Individual routines vs. family routines
While it is important to have routines as an individual, it is also important to have them as a family. You probably already have individual routines, you just may not realize it. Things like: how you get ready for the day, how you say goodbye to your spouse, etc are all easy individual routines.
As a family, it is beneficial to have routines that are consistent so everyone can be on the same page.
One way to do this is with a weekly check-in.
Weekly Check-In
For our family, we talk usually on Sunday's about what's to come for the week ahead. This allows us all (parents and kids) to be on the same page as far as events, sports, appointments, my husband's work schedule, etc.
This is also the time that I update the calendar on my phone or read over what was already there. We used to have a commend center in our home with a calendar, but found it was easier to keep that information on our phones (my husband and myself) as our kids got older.
You could use apps, shared family calendars, Google calendar, pen and paper calendars or dry erase board calendars to keep track of what is going on for your family.
Routines are Fluid
Remember that routines should be fluid. While it is important to have consistency, having an open mind that things can change will help you tremendously. I recommend making your plans for you and your children if you have them knowing that your spouse's job may be inconsistent. If you spouse ends up being able to be part of every routine, great, but being flexible that it may not happen that way is a good mindset to adopt.
Build in a self-care routine and time with your spouse
When you are making plans for the week or month, don't neglect yourself and time for self-care. In addition, be sure to build in time for both you and your spouse to be together. This should be part of your routine, as well, but is often overlooked.
If you have children…
Children thrive off routine so going over schedules and plans with them will help them know what's to come. (This means less fits and behavior problems generally).
Children may ask "when will daddy or mommy be home"? You may not know the answer to that question so instead of focusing on what you can't control try to help redirect them to something you CAN control. Say "I am not sure but let's talk about what you can do with daddy/mommy when they do get home." They could even draw a picture or write a list to help them look forward to the next time together.
Sleeping and Eating Routines
It is incredibly important that you keep your own routines of adequate sleep and healthy eating. It is easy to try fit into your spouse's schedule, but ultimately if it is not a normal 9-5 schedule then it is going to leave you feeling burned out and tired. Plus, it makes it that much harder to get back into your own routine if you veer off too greatly.
I hope this episode helps you to foster and form routines as a law enforcement family! You've got this!
Like this episode? Be sure to subscribe to the Proud Police Wife Podcast and leave a review.
Want to stay in touch? Be sure to follow me on Instagram to watch my funny and encouraging reels and check out my IG stories for more behind the scenes.
FREE Police Wife Guide- Top 10 Ways to Rock Police Wife Life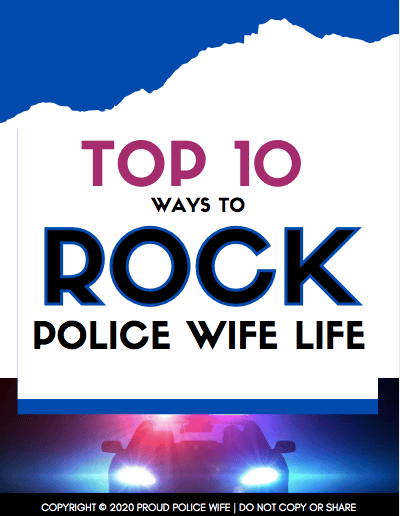 Learn to rock police wife life with these 10 easy tips! Join over 20,000 fellow police wives who are learning to rock it and feel supported with our help each week! Once a week I will provide you with even more ways to feel encouraged and supported for your law enforcement wife journey with my newsletter.
Read my PRIVACY POLICY here.