This episode is brought to you by Blue Monarch Co. Blue Monarch Co. is a retired police owned and operated jewelry company that offers inspirational and subtle thin blue line pieces. Check out Blue Monarch Co. and use code HEART40 for 40% off your order or code BOGOHEART for buy one, get one free for any products in the heart collection.
While talking about the dangers of the job is not an ideal conversation and one that many law enforcement families put off, it truly is one of necessity. No one truly wants to talk about how to prepare for the unexpected.
Believe me, I know how hard it is to think that someone else's tragedy could be your reality, but the fact is, we never think it will happen to us, until it does. So being prepared as best as you can is just so vital.
Joining me in today's episode is April Katherman-Redgrave. April Katherman-Redgrave is the surviving widow of fallen San Jose Police Motors Officer Michael J. Katherman. April experienced unimaginable brokenness and despair, yet also witnessed how God redeemed a terrible situation into one of great beauty and joy. April now shares her beauty from ashes story through writing and speaking to help encourage law enforcement families, widows and blended families while honoring her husband in heaven and glorifying all God has done in her life.
April does bravely share her story of her husband's line of duty death and what we really want to emphasize is that in this episode we are not trying to instill fear. Instead, we are hoping that you can learn from what she did not prepare for and it give you the motivation to have conversations with your loved one that she wished she did have.
So today April talks about some conversations to have with your spouse in law enforcement and she gives encouragement to any wife needing words of positivity right now.
How to Best Prepare for the Unexpected as a Law Enforcement Family:
Have conversations about the "what ifs" to help prepare for the unexpected
April looks back and wishes she had conversations with her husband about things like:
-Who would they want from the department to be their point of contact in case something happened?
-Who would they not want present? (April talks about having to ask certain people to leave her home after the death of her husband)
-What kind of funeral services would he want?
-Would he want to be cremated or buried?
-How would he feel if she and their children moved from their home or decided to stay in their home?
-How would he feel if she found love again?
-Do each of you know passwords for bills and important documents should something happen to either of you?
Again, while these are very difficult discussions to have, and we pray they never become your reality, knowing the answers to these questions (for not just your spouse, but both of you), could take away the emotional burden of not knowing should something tragic happen.
Write a will and keep it updated
So many of us don't have wills or if we do, they aren't always updated. Life altering changes require you to update your will like getting married, divorce, having children, etc.
Be as prepared as you can and please take the time to have a will written.
If you need help starting these conversations with your loved one or need a place to record their/your answers for safe keeping, be sure to check out The Police Wife Resource Binder here. It goes over end of watch, trusts, wills, passwords, and while filling it out, forces you to answer questions you may not have thought about.
Encouragement for the police spouse:
Notice signs of your spouse needing decompression time or time to process
Every person is going to be different in how they handle and process the job. But if your spouse is showing signs of needing time alone, quiet time, or extra time to process after a long day, please encourage this.
April shares how her husband would spend some extra time in the garage working on projects. While she wished he would talk to her or share how he was feeling with her in the moment, she now sees that extra alone time in the garage was his way of processing. Healthy amounts of this is important for law enforcement officers.
Plan in moments of fun
Finding ways to have fun, relax, break away from the job completely, and make memories will not only help the officer in your life, but also your relationship and family.
Don't make your spouse feel bad for working the holidays
They would much rather be home with you instead of working. They don't want this schedule either so embracing the time you do have together is important. If you have to celebrate Christmas on a different day, we promise, it is okay and you will remember your memories and time together, not the day you celebrated.
Pray for your spouse
Pray for your spouse, his/her safety, his/her inner peace, your relationship, and more. Give any burdens you may be feeling and turn them over to God.
If you are struggling with too much noise regarding law enforcement, take a break
Social media can be loud and down right toxic. So can friends or coworkers who might not understand the job. You are allowed to put in boundaries and take a break from those conversations and allowing that information into your life.
Find a circle of support
You do not have to walk this lifestyle alone. Find friends who support you and offer a supportive ear. Remember, this does not always have to be a police spouse or someone from the department.
How to Stay in Touch with April Katherman-Redgrave:
April now encourages others experiencing grief, love and after loss, and those in the law enforcement community with her writing and speaking. She writes on her blog and you can check out her book, Through Hell and High Water here.
You can also follow April on Instagram here.
I want to thank April for being so vulnerable and open and sharing her story with us so we can prepare for the unexpected as best as we can.
Like this episode? Be sure to subscribe to the Proud Police Wife Podcast and leave a review.
Want to stay in touch? Be sure to follow me on Instagram to watch my funny and encouraging reels and check out my IG stories for more behind the scenes.
FREE Police Wife Guide- Top 10 Ways to Rock Police Wife Life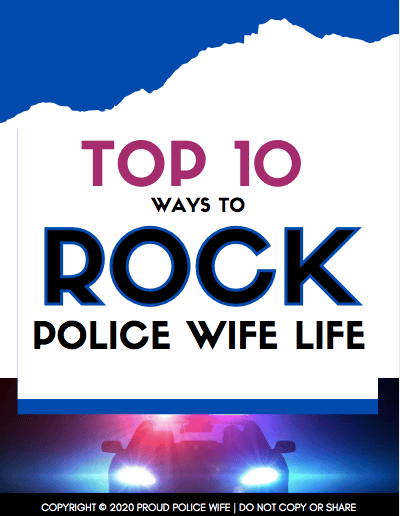 Learn to rock police wife life with these 10 easy tips! Join over 20,000 fellow police wives who are learning to rock it and feel supported with our help each week! Once a week I will provide you with even more ways to feel encouraged and supported for your law enforcement wife journey with my newsletter.
Read my PRIVACY POLICY here.