Sadly, as a spouse of a law enforcement officer, we are going to see our spouses/partners experience many difficult situations throughout their career.
Whether that is a hard call, an OIS (officer involved shooting), difficulties within a department, or major incidents that make national headlines. All of these are difficult in their own way and they can be even harder to navigate as individuals, law enforcement couples and as a blue community.
Whatever the case may be, you may need support as a spouse/partner AND want to know ways to support your officer during a time of need.
Please keep in mind that the advice listed below is not one size fits all. This is what I recommend but I am not a professional counselor or expert by any means.
Ways to deal with a crisis as a law enforcement spouse:
You don't have to pick sides.
No matter what the situation is, you may have a world of emotions. It is okay and normal to experience so many things at once.
Just keep in mind that you can support your officer and law enforcement while also being upset at whatever crisis is unfolding.
You can want change.
You can be apart of the change while also supporting the thin blue line.
You can always fight for what is RIGHT and stand up for what is WRONG.
No one says you have to pick sides.
Talk to others going through it.
This goes for you as a police wife/girlfriend and for your officer. As a spouse, find others in your shoes, possibly fellow police wives going through a similar situation or find platforms online that are safe places for you to talk.
Encourage your officer to also talk to those who understand. Peer support is an amazing resource and offered at many/most departments. If they want to speak to someone not at the department, check out That Peer Support Couple. If your officer is really struggling then talking to a professional like a counselor is highly encouraged.
Here is a list of trusted resources, as well.
Focus on the good.
This will look different for different people. Some of you will turn to God/Prayer during a difficult time. Others may need to focus more on family and positive quotes or meditation. Do what works best for you.
This may also mean staying off social media. Social media fuels the fire for so many and taking a break may be very needed.
If you choose to stay on social media and look to certain platforms/accounts for comfort/advice, then be sure to choose those accounts wisely. This is something you have control over. Look to accounts that give you positivity not negativity.
And above all, please, please, don't read the comments.
We will see posts, videos and comments online about police officers, policing, in general, departments and even particular officers and they will not be nice. Try to avoid engaging in these heated discussions and toxic platforms; it never ends well.
Be open with your spouse/partner.
Let your spouse know you are there for them. You will listen, you will talk, you support them. Keeping in mind, you may not have every answer and you won't be able to fix everything for them- that's okay. They just need a safe place to talk when they are ready (don't force discussion).
In addition, if you are struggling, it is okay to share that with your spouse/partner. Have discussions when they are off work so you can have a dedicated time to talk.
This leads me into my next recommendation.
Review procedures and your officers training for reassurance.
If you are feeling unsettled, review safety procedures with your spouse. You can do this for your home (like talking about the safety measures you've taken at home: cameras, dead bolts, motion lights, etc).
It puts our minds at ease when we know we have plans in place and that our officer has proper training. You can have discussions about what precautions they take at work for reassurance.
Look to trusted resources.
It is important to be educated and well-informed with information from credible resources. Remember that just because it is on the internet does NOT make it true.
Dealing with friends/family that are not "pro-police"
This is something we may deal with from time to time and it is extremely disheartening. There is no perfect answer here but you ultimately have to do what works best for you and your spouse. I advise trying to handle things with grace while still holding strong to your beliefs.
THIS POST GIVES ADVICE FOR HOW TO DIS-ENGAGE FROM UNSUPPORTIVE FRIENDS AND FAMILY.
Overall, dealing with a crisis as a law enforcement spouse and officer is never easy, but please remember you are not alone. Someone else has experienced it, too.
FREE Police Wife Guide- Top 10 Ways to Rock Police Wife Life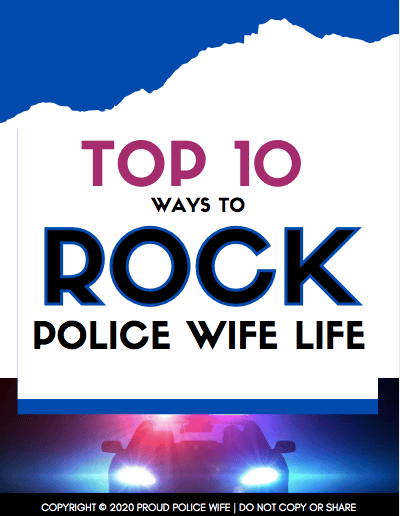 Learn to rock police wife life with these 10 easy tips! Join over 20,000 fellow police wives who are learning to rock it and feel supported with our help each week! Once a week I will provide you with even more ways to feel encouraged and supported for your law enforcement wife journey with my newsletter.
Read my PRIVACY POLICY here.