Guest post by Cote
Did you know that if you search the internet about "law enforcement marriages" you get mostly articles about marriage counseling, statistics of blue divorces, and tips on how to save your crumbling police marriage?
It's not very reassuring. And if you've been around long enough you're bound to have heard the horror stories from other LEOWs personally. Station affairs, strained marriages, cheating officers, cheating wives, separate lives, lonely kids. Spouses fed up with the shift work and beaten down by the untreated PTSD, tired of "solo" parenting and missing holidays and events.
And I hear that. I really do. This is not an easy life.
But I wanted to take a moment and talk about the ways blue life has BLESSED and STRENGTHENED our marriage, not just hurt it.
Shift work is probably one of the hardest parts of a law enforcement career. It's hard on the officer and it's hard on their family. Gone are the TGIF days because, let's be honest, a traditional 'weekend' is just a word now. And if your officer is working nights-well, let's just open a whole new can of worms.
But I'm here to tell you that the shift work and night shifts have actually blessed our marriage in a huge way. Why? Because they cause us to be intentional with our time together. Now, I've always appreciated my officer. We've been together for almost a decade and I've always enjoyed spending time with him. But through the years it's been easy to slip into a routine. Get home, eat dinner, turn on Netflix, scroll through our phones, go to bed, do it all over again. Because our schedule isn't the typical 9 to 5 anymore we've had to become more intentional and more creative with our time together.
We have regular lunch dates on his days off and my days on, or breakfast dates if it's a Saturday he's getting off a night shift. We turn off the TV and set our phones aside and genuinely BE together. We're more interested in what's happening in the other's life because sometimes it's been a couple of days since we've actually had a chance to really catch up. The Sunday mornings we can actually attend church together are something I cherish, instead of another early morning I'm secretly dreading. The times we can sit down for dinner together are sacred and special, no longer just routine. The few nights I can roll over in bed and find a warm body next to me (that's not just our cat) are the highlights of my month.
Grab the All-in-One Police Wife Reference Guide
Grab this handy reference guide for all things police wife! From important dates & events to resources for law enforcement- all in one place!
Blue life has also caused us to appreciate each other more.
I'm by no means a pessimist but I know that there's a chance each night when he walks out our front door to work that he might not walk back in again. Because of this we're more likely to say "I love you" to each other, or show it in our respective love languages. Because of this, I pray for him more often. Because of this I stop what I'm doing to say a proper goodbye when he leaves for work instead of waving goodbye over my shoulder while I'm trying to catch up on dishes/paperwork/laundry/"insert-any-chore-here".
How to strengthen your marriage, too
Bottom line: make a priority to be present. Be focused on your time together and don't let easy distractions creep into your the time you do have. If that means putting phones down, not answering the doorbell during dinner, turning off the television- do all those things.
Also, communicate with one another. Discuss those times that you both have off so that you know in advance when your time together will be. No surprises.
So yes, blue marriages are HARD. They are. They come with a unique set of challenges but they also come with a special set of rewards. When my officer started his career I knew our lives would change but I didn't know how much or in what ways. We've had our ups and downs but our relationship has been strengthened and prioritized since we've become a blue family and boy, am I thankful.
About the author:
Cote is a law enforcement officer wife (LEOW) living in Washington State, where she works as a family therapist.  Cote has a heart for first responders and is adamant about making self-care practices and mental health awareness mainstream. She enjoys prosecco, tacos, and sunshine, and spends way too much time hanging out with her 25 pound cat. Cote often finds herself journaling in her downtime, and is the founder of ammo + grace, a faith based LEOW support blog.
FREE Police Wife Guide- Top 10 Ways to Rock Police Wife Life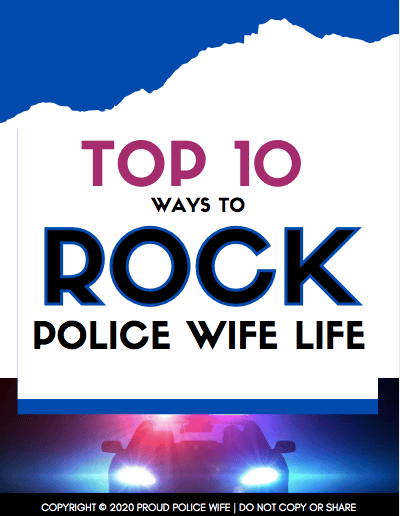 Learn to rock police wife life with these 10 easy tips! Join over 20,000 fellow police wives who are learning to rock it and feel supported with our help each week! Once a week I will provide you with even more ways to feel encouraged and supported for your law enforcement wife journey with my newsletter.
Read my PRIVACY POLICY here.