So you are "only" a police girlfriend, right? WRONG!! You may not know this about me, but I was a police girlfriend once, too. Not Earth-shattering news, but it has something to do with why I created this little blog to begin with.
You see, as a police girlfriend, I felt "unqualified" to hang out or converse with the police wives. Not that the police wives I knew did anything wrong or made me feel bad about myself, I just simply felt like I didn't belong.
I couldn't relate to what it was like living together and having a family together. I couldn't relate to being invited places as a spouse. Bottom line: I just couldn't relate. It was like I was this rare breed that never fit in.
But on the inside, I felt like my role in my officer's life was just as hard. I just had no one who could commiserate.
We struggled greatly with our schedule's especially because we did not live together. I was actually in college at the time so part of the time we even lived in separate towns.
I still feared my boyfriend's job (now husband). I still had worry. I still missed him immensely. I still prayed for him. Weren't those the same feelings police wives felt?
We were preparing to move in together after I graduated, so I knew I would have many of the same responsibilities as police wives, but it still seemed to make no difference.
I still felt alone.
And my whole reason for creating this little blog of mine was to help fellow police wives (girlfriends, too) feel less alone. It is time we normalize how we feel, what we go through. And hold each other up in a judgement free zone backing our sisters in this community no matter if we are a police girlfriend or police wife.
But first, there are two things you NEED to understand right now:
1. You are your officer's ROCK no matter what your "title" is. Your officer depends on you. He needs you for encouragement, strength, love & affection. He loves you for YOU. Don't ever forget that.
2. I NEED you to stop comparing yourselves to the title of a police wife. You are MORE than "just" a girlfriend. Your officer does not care what your title is and you shouldn't either.
Let's erase the girlfriend thing all together. Instead, let's call you a…
Badass
or
Amazing Support System
or
Rockstar
or
Motivator
I could go on and on. Do you get my point yet? You are amazing. So let's look at ALL the amazing things you DO instead of what you do differently.
If you are happy then just DO YOU!
I wish I could go back in time and tell my twenty-something self this. It would have saved me so much angst.
I know, at times, being a girlfriend can be even harder. You have bigger hoops to jump with less people cheering you on. But I am right here cheering you on, my friend. Right. Here. With. You!
FREE Police Wife Guide- Top 10 Ways to Rock Police Wife Life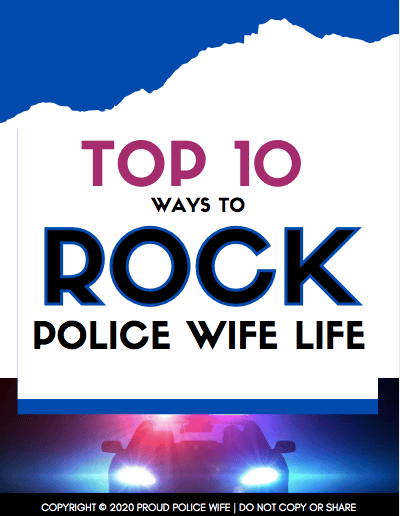 Learn to rock police wife life with these 10 easy tips! Join over 20,000 fellow police wives who are learning to rock it and feel supported with our help each week! Once a week I will provide you with even more ways to feel encouraged and supported for your law enforcement wife journey with my newsletter.
Read my PRIVACY POLICY here.