Every year on January 9th, we honor and give support to our nation's law enforcement for Law Enforcement Appreciation Day. This is an amazing way for people to come together and share their appreciation for police.
However, you don't always need a special day in which to do so. You can show appreciation to law enforcement every day, all throughout the year.
As spouses it may be easy for us to come up with ways to show appreciation but for supporters it may not be. So today I want to share some FREE and EASY ways to show support for law enforcement.
Free and Easy Ways to Show Appreciation for Law Enforcement
Say "thank you"!
It seems SO small, but I promise you it is not. Saying thank you to a law enforcement officer for what they do every day means so much.
Write a thank you card.
A handwritten note is also a very kind gesture.
Wear BLUE in support of law enforcement.
Chances are you have something blue in your closet and it's a very easy way to show support for law enforcement.
Buy their coffee.
If a police officer is behind you in line or you see an officer at a local restaurant, buy their coffee or meal.
Share a post on social media in support of police.
If you feel comfortable doing so, share a supportive post on social media letting police know you appreciate them.
Have your kids draw letters or pictures for police.
You can grab my FREE printables below perfect for kids and share them with any officer you know. Be sure to tag us on Instagram if you print them- we'd love to see!
There are so many ways to say thank you to law enforcement and you don't have to spend money! Check out the podcast for even more ways.
Ways to Show Support to Law Enforcement
FREE Police Wife Guide- Top 10 Ways to Rock Police Wife Life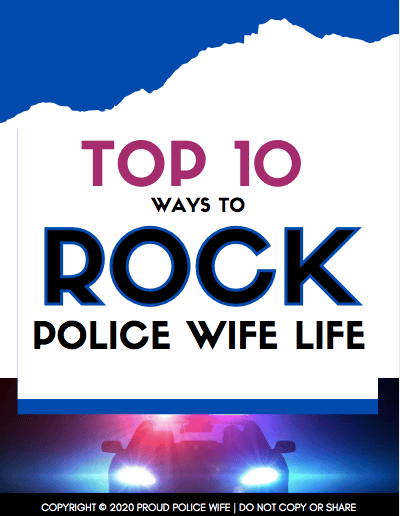 Learn to rock police wife life with these 10 easy tips! Join over 20,000 fellow police wives who are learning to rock it and feel supported with our help each week! Once a week I will provide you with even more ways to feel encouraged and supported for your law enforcement wife journey with my newsletter.
Read my PRIVACY POLICY here.