I recently wrote about ways to rock "solo" parenting as a police wife. Having kids, especially young ones, while living the law enforcement life can be difficult, no doubt. But after posting this article, I kept thinking about the police wife that is just entering this lifestyle maybe after a career change or the police wife that has a new baby. The first year is by far the hardest. The ones that truly need the most help are not the veterans or seasoned wives, it is the newer wives when it comes to parenting. The "unknown" is what makes this life hard to navigate.
As a newer police wife or police wife with a new baby, you are having to juggle so much right now. All of it is hard, but caring for innocent little people, amidst this life, can be draining. I want to be completely honest with you about what your life is going to be like and what changes are going to occur over the next year.
I was used to police wife life for a few years, but when we had our first child, I was a little blindsided. I guess I expected something different as far as the "help" I was going to get from my husband. Don't get me wrong- he IS ALWAYS AMAZING with our children and we work as a TEAM but what I wasn't prepared for was how law enforcement life affects our children, too.
We now have three kids and the adjustment period is behind me. It eventually got a little easier, but knowing the truth on what to expect would have helped me tremendously. It would have saved me a few tears, nights of anger, and given me confidence to rock "solo" parenting much earlier!
What to expect (or not) your first year as a "solo" parent:
Work as a team with your spouse.
Even though police work can feel demanding and your officer is working many long shifts, you absolutely CAN work as a team together. Keep communication open, use a shared calendar to be on the same page as much as possible and try to divide and conquer when it comes to chores, errands and responsibilities.
Your friends and family may not understand.
No one really understands the law enforcement life, "solo" parenting, your husband's schedule, why you are alone all the time, etc. It would make things a whole hell of a lot easier if they did, right? But you know what? It is perfectly okay if they don't understand- you just do you.
I started changing when we had our first child. Not only did I plan our lives around my husband's schedule, but I now planned them around our daughter's life, as well as, my husband's schedule. I lost friends. Looking back, it was for the best and I fully believe that. Just know that what decisions you are making are for you and your family- not your friends or extended family.
That's right, friend. You are going to realize that quality time with your officer and child(ren) are far more important than squeezing in one more event where you get less time with your family. Don't feel bad about it- AT ALL. I have learned to say "no" pretty effortlessly these days and it doesn't bother me as much. Quality time is what your family needs, so turning down gatherings, no matter what others think about you, is important.
It will be hard. But YOU will be stronger for it. 
I am not going to lie to you. Police wife life is hard and having a child(ren) when this life is beginning is even more difficult. The first year is probably the hardest. But once you get through the first year and develop routines as best as you can and find your "new normal" then it will prepare you for the rest of your journey. Each day you are getting stronger and working towards an easier police wife life.
Your priorities will shift. 
I kind of touched on this above. You will change as a person. You will begin to rely on different people and associate with people who understand this life more than others. You will also gain an understanding of what your biggest priorities are in life. Not to say you didn't already have this, but I can promise you, it will become even more clear once you have a child and you are caring for that child most of the time. You know which battles to fight and which to let go.

Grab the All-in-One Police Wife Reference Guide
Grab this handy reference guide for all things police wife! From important dates & events to resources for law enforcement- all in one place! Subscribing also gets you access to my weekly newsletter full of tips and encouragement.
Read my PRIVACY POLICY here.
If you receive help- take it! 
I am serious. I remember people offering help when I had my first born and I wanted to appear like I had everything under control. I would nicely say, "Oh no, you don't have to do that. You are busy, too. We are fine. Just fine." Stupid move on my part. Stupid.
I would soon learn that when you are raising children in police wife life, the saying "it takes a village to raise a child" couldn't be more true. I also learned that when people offer to help you- they seriously mean it! So let me sound like your mother for a second and say "take the help". Just return the favor some day when they are in the same boat or in a time of need.
You will make it through.
In the end, you will survive. What may feel like your hardest year ever (and it certainly may be), will soon be gone. You will be stronger, more confident, braver, and one bad-ass "solo" parenting police wife!!
Overall, remember that while the first year is the hardest to get through, it will not last forever. Your kids will grow so quickly and time passes us all by. If you are looking for a tribe of women who understand then request to join our exclusive Facebook group and be a part of a supportive team. You can do this!
FREE Police Wife Guide- Top 10 Ways to Rock Police Wife Life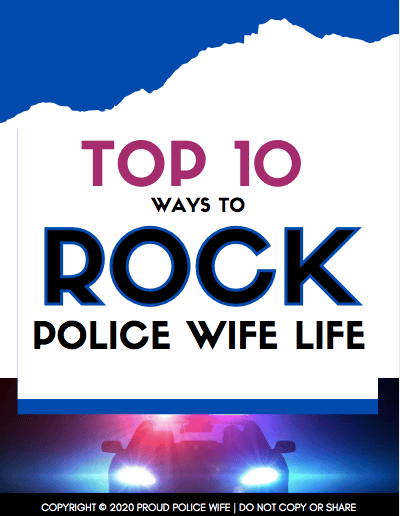 Learn to rock police wife life with these 10 easy tips! Join over 20,000 fellow police wives who are learning to rock it and feel supported with our help each week! Once a week I will provide you with even more ways to feel encouraged and supported for your law enforcement wife journey with my newsletter.
Read my PRIVACY POLICY here.