Both motherhood and being married to a police officer come with there own unique set of challenges. But when you are trying to navigate and balance both, at the same time, it is easy to feel like you get lost within those struggles.
I had the opportunity to sit down and talk with Jillian from Beauty Sleep and Babies about her experiences as a new mom and fellow police wife. She was incredibly open about her journey of needing to find herself again because both LEOW life (law enforcement officer wife life) and motherhood took so much out of her.
Jillian shared that it was definitely easier for her to navigate through LEOW life before they had children. She took advantage of the time she had on her own to focus on herself, her career and her hobbies.
But after her first son was born, that is when more of the challenges arose.
Common Struggles LEOW Life and Motherhood Can Bring:
Being the Default Parent
Many, many times the officer in the relationship can not be super flexible when it comes to their job. That forces the spouse to become more of the default parent having to make themselves more available for appointments, staying home when a child is sick, etc.
This does not mean the officer doesn't want to be supportive or helpful, but their career limits their availability at times.
Limited Time or Resources to Do Things for Themselves
Jillian felt like she due to her husband's schedule or working nights and sleeping during the day, this limited her availability to do things for herself at times.
While she loves being a mother, she was left feeling like "just a mom."
And Jillian is not alone. So many of us can relate to the fact that the career often comes first and we truly have to make ourselves and our own self-care a priority in order to make it happen. Or else it just won't happen at all.
Ways to Find Yourself Amidst LEOW Life and Motherhood
Forcing Yourself to Slow Down
You have to start thinking about YOU again. And if you are completely overwhelmed with motherhood, your spouse's career and how it impacts you, and the hustle and bustle of life, you are going to have a difficult time knowing what YOU need.
Slow down. Say no things. Take some things off your plate. Allow yourself some downtime to think about what you need and want.
Jillian talks about how life naturally slowed down for her and her family during the pandemic and this opened her eyes to the fact that she was doing nothing for herself for well over a year.
Make it a Priority to Do Something For Yourself
Extra time is not going fall into your lap. You have to make time for YOU a higher priority to ensure it actually happens.
Think About What You Used to Enjoy Before You Were a Mom
Jillian wants her children to be HER REASON, not HER EXCUSE. She wants her children to see the BEST version of her. During her struggles, she was letting her children be her excuse and she didn't want that.
Instead, she thought long and hard about hobbies and self-care techniques that she USED to love doing and started digging back into those so she could not only better herself, but be a better mom for her children.
Pick One Thing to Focus on First
Start SMALL. And when you are ready to make changes, pick one area to focus on to change to be more successful. Jillian recommends habit stacking where you pair one habit with another to make it easier to do. Jillian shared that when she started small, it allowed her goal to be more attainable and other areas of her life fell into place.
Jillian is a police wife and boy mama helping herself and others balance motherhood, self-care, wellness, and beauty inside and out. After losing herself in the shuffle of motherhood and the demands of being an LEOW, she lets you in on her journey into loving herself again and finding a way to reach her goals. She is in network marketing and is newly a stay at home mom. Jillian loves to help others feel empowered, worthy, and inspired.
CONNECT WITH JILLIAN ON INSTAGRAM HERE
FREE Police Wife Guide- Top 10 Ways to Rock Police Wife Life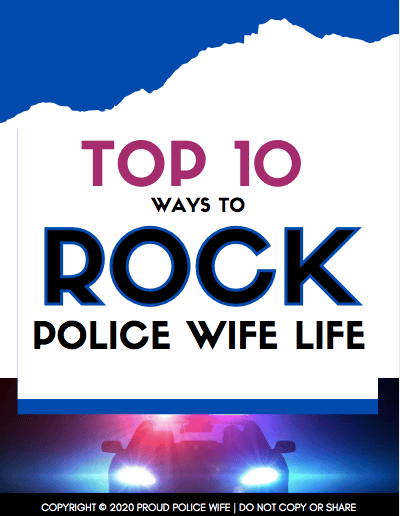 Learn to rock police wife life with these 10 easy tips! Join over 20,000 fellow police wives who are learning to rock it and feel supported with our help each week! Once a week I will provide you with even more ways to feel encouraged and supported for your law enforcement wife journey with my newsletter.
Read my PRIVACY POLICY here.