First Responder families are used to having hard conversations regarding the job. But we don't always want to talk about finances and being prepared if an emergency were to happen.
Talking about emergency funds and life insurance is not exactly "fun" for most people, but it really is a necessary conversation not just for everyone in life but especially first responder families.
In today's episode, Courtney from Heroes Financial Coaching is joining us to talk about financial preparedness for first responders. Courtney is a veteran wife, police wife and momma to two toddlers. She knows firsthand the struggles of managing finances and reducing the stress that can come with money. She runs a financial coaching business for first responder families where she helps them reach their financial goals and be financially prepared for whatever life throws their way.
Here are her top tips regarding emergency funds, life insurance and more.
Courtney began her journey (with her husband) to financial preparedness after two rounds of debt from car loans and student loans. They've experienced the stressors of being broke and her desire grew to explore budgeting and helping others EVEN with a low income.
She became a financial coach through Dave Ramsey and now has a mission to help other first responder families be financially prepared.
Financial Preparedness for First Responders:
Why do first responders need an emergency fund?
First responder families experience more stress than many other couples. Finances doesn't need to contribute to that. In addition, first responders are the helpers in our communities but they do experience dangers because of the job. Being financially prepared for any emergency is necessary.
Courtney recommends saving at least $3,000 for an emergency fund compared to the traditional $1,000 that many recommend because more times than not, $1,000 won't even cover most car repairs or an emergency hospital stay.
Should you pay off debt first or save money first?
Courtney recommends doing both. If you can budget saving to at least that $3,000 mark while paying your monthly payments on debts than if you are hit with an emergency, you will be less likely to use credit cards to pay for said emergency. You can be prepared by using your emergency fund and avoid going further into debt.
Is life insurance needed for first responders and/or their families?
This is an obvious one-yes! Protect yourself as the first responder, spouse and if you can afford it, your children, too. Courtney recommends term life insurance and it is usually very inexpensive to add children to your plan.
If you are struggling financially, ready to set up a realistic budget (especially as a low income family) or need help financially from someone who has walked in your shoes, be sure to set up a consultation to see if you are a good fit for working with Courtney.
You can find Courtney on Instagram @heroesfinancialcoaching or visit her website here.
FREE Police Wife Guide- Top 10 Ways to Rock Police Wife Life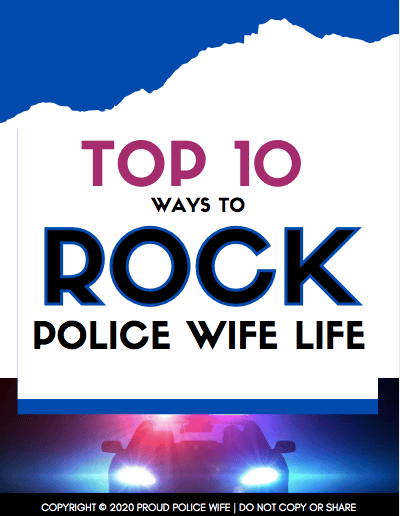 Learn to rock police wife life with these 10 easy tips! Join over 20,000 fellow police wives who are learning to rock it and feel supported with our help each week! Once a week I will provide you with even more ways to feel encouraged and supported for your law enforcement wife journey with my newsletter.
Read my PRIVACY POLICY here.